Personalized Gifts for Baby's First Christmas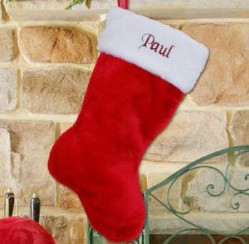 Gifts that Celebrate Baby's First Christmas
Nothing beats the joy of excitement of bringing a new baby into your life. A time of year that new parents treasure is their baby's first Christmas. I am expecting two nephews to be born within the next month. Not only is it a special day for the parents, it's a day that their children can look back on because there are special Christmas gifts that were given to them when they were little. It can be something simple given as a token or something more extravagant. Either way, the final outcome is the gift you give will be special.
With all of the cool things they make for babies these days, personalized Christmas and holiday gifts are sure to please. They are great for parents who have given their child an unusual name. It's hard to find a pre-made gift with these types of name, so giving a personalized gift is something a parent will cherish for years to come.
Christmas Stockings
Christmas stockings come in all shapes, colors and sizes. Some people use it for decor, others will actually put gifts inside. You can put just the name of the child or it can be customized further with the baby's birthdate. They are made to last over time. They are inexpensive to purchase and are also a good option to give early as parents decorate for the holidays.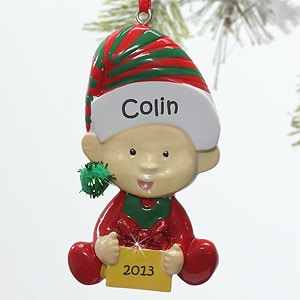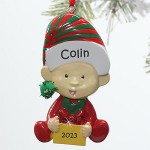 Christmas Ornaments
Christmas ornaments also offer versatility. They can be given with or without a photo. The ones without a photo are a unique reminder of the holiday and are a good alternative for those who don't have a photo. This Christmas elf ornament is made especially for babies and can have the year of the child's Christmas added to the elf's gift. Holiday photo ornaments are a standout and make lovely gifts for spouses or close relatives to give at Christmastime.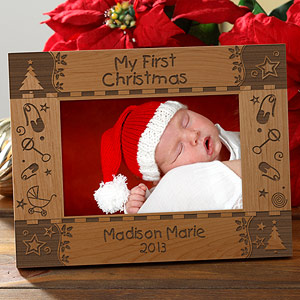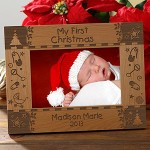 Photo Frames
Giving a personalized photo frame with a photo in it for baby's first Christmas is an ideal gift for parents, grandparents, friends and family members like myself. It's a gift that offers simplicity as well as practicality. It can be found with a wood, ceramic or glass base. With names engraved or painted, this makes an ordinary Christmas gift extraordinary.
Child's Step Stool
With costs being surmountable for raising children these days, many keepsakes that can be both memorable and practical. A child's step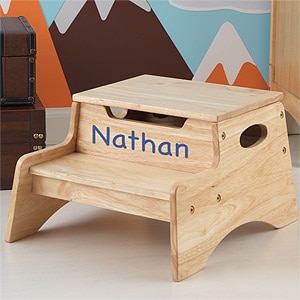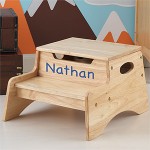 stool (pictured left) is very useful for a new family. This step stool has a storage area included which offers a convenient area for their toys. Strong and durable, a gift like this will be useful when children are babies and also for when they get older. An example of this would be when they're learning how to brush their teeth.
As you can see, personalized gifts make unforgettable gifts for baby's first Christmas. It's all a matter of planning early and shopping smartly. You can give a special gift that will make its mark for years to come.
Share Your Thoughts
What was the best personalized gift you gave or received for Christmas? Please share below in our comments section.
Don't forget! There's still time to enter our Early Christmas Gift Giveaway.
Related Posts
Plan Ahead For Popular Christmas Gifts
Christmas Decorations
Gifts That Make Christmas Memorable
Make It Special With A Personalized Baby Gift
All Photos: Personalization Mall