No Christmas morning is complete without an arrangement of Christmas stockings in your holiday home. Make sure you are ready for the arrival of Ol' Saint Nick this holiday season when you add custom Christmas stockings to your décor.
Editor's Choice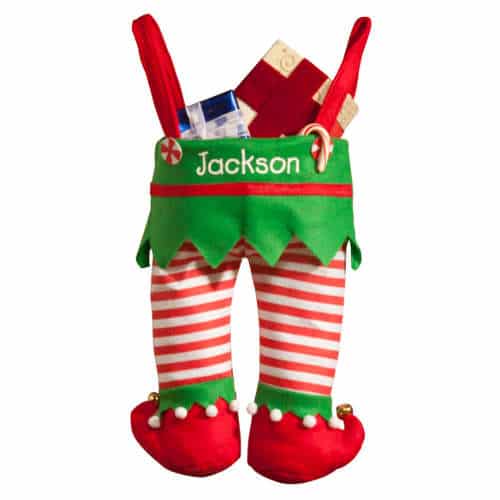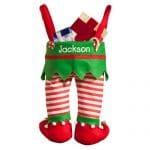 $

14.99
Personalized Elf Pants Stocking
$14.99
From their suspenders, to the bells on their cute little toes, these elf stockings are adorable, and sure to get a few giggles from children on Christmas morning. Get one for the whole family and hang them up in a line across your mantel! The Personalized Elf Pants Stocking from Miles Kimball will be the perfect, funny surprise when your children come downstairs Christmas morning and see...
Featured Gifts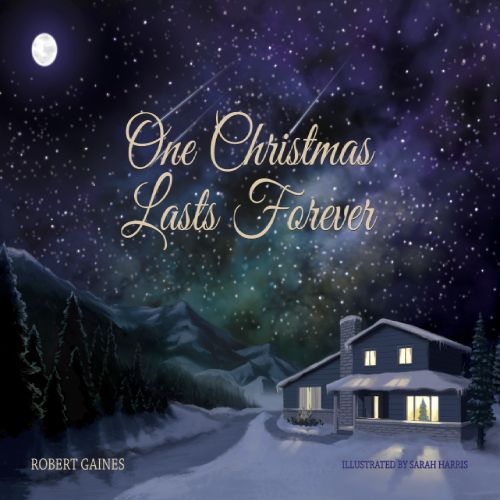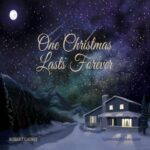 $

11.99
One Christmas Lasts Forever
$11.99
One Christmas Lasts Forever is a fascinating family Christmas book to be read throughout the years. Robert D. Gaines has penned a whimsical story of eternal bonds as a father strangely steps back into his own childhood to find his parents and grandparents, only to realize his children are standing behind him … and there will be a wondrous twist. Best enjoyed while snuggling with children or...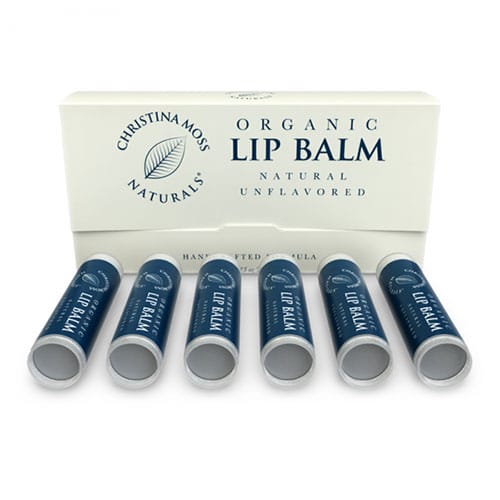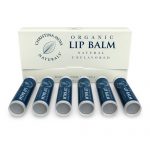 $

15.99
Organic Lip Balm (Unflavored)
$15.99
Step away from the mistletoe! Those dry, cracked or chapped lips that are often caused by harsh winter weather can become painful under pressure. Replenish their moisture and begin your journey to smoother lips and a more enjoyable mistletoe experience when you give them the tender loving care they need with this Organic Lip Balm. Fabulous gifts for everyone's Christmas stockings this year,...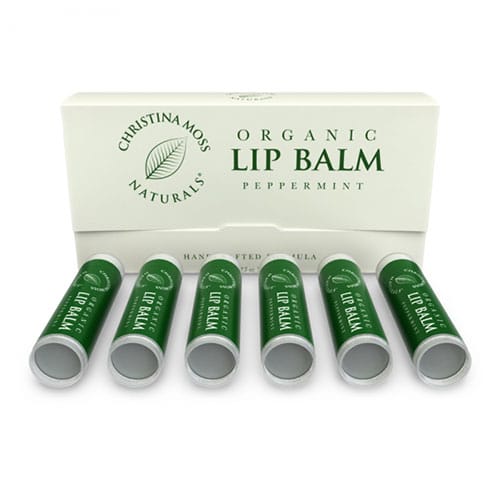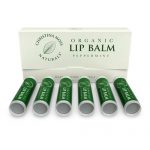 $

15.99
Organic Lip Balm (Peppermint)
$15.99
This magnificent peppermint lip balm is the perfect way to enhance those meetings underneath the mistletoe this holiday season! Featuring only the finest certified organic ingredients, this handcrafted formula is fabulous for replenishing that moisture that is often lost during the winter months. It is designed to help prevent cracking, chapping and irritation so you can achieve a healthier, more...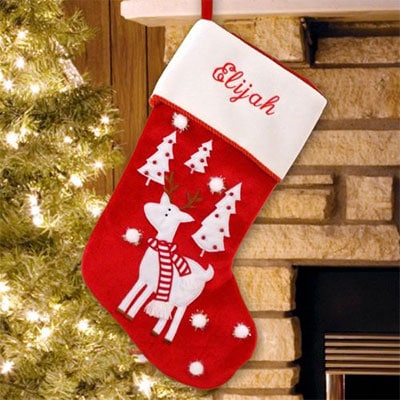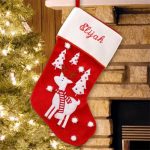 $

23.73
Personalized Scarfed Reindeer Stocking
$23.73
This adorable personalized Christmas stocking is sure to bring joy to your holiday celebrations this year. Featuring a festive reindeer all decked out in his fringed scarf, fluffy pom-poms, bright beads and an array of Christmas trees, it can even be personalized with beautiful embroidered lettering so that nobody gets your goodies on Christmas morning. This luxurious velvet stocking measures a...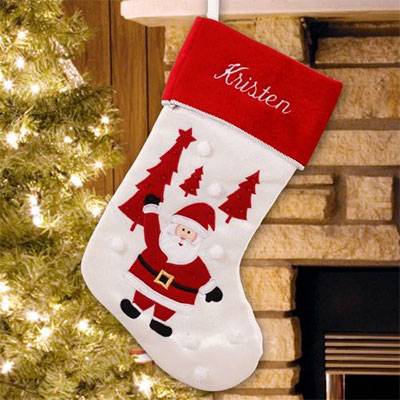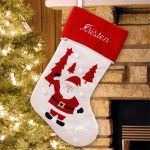 $

23.73
Embroidered Santa Stocking
$23.73
An adorable personalized Santa stocking is just what you need to dress up that mantle with holiday cheer this Christmas, and we've got just the one. Featuring jolly Ol' Saint Nick on a dazzling white background, surrounded by bright Christmas trees, colorful beads and festive pom-poms, this velvet stocking brings well wishes and joy. Personalize your Santa stocking with the name of your...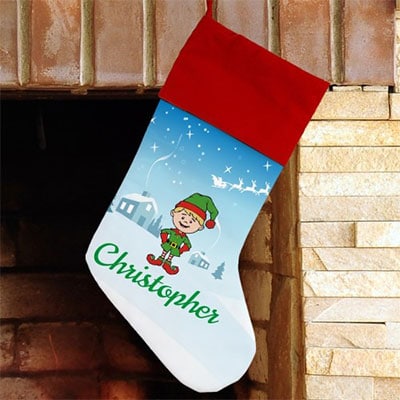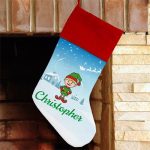 $

14.98
Christmas Character Personalized Stocking
$14.98
An ideal gift for everyone on your holiday shopping list, this personalized stocking can be created with a character that looks just like you or your pet. Choose from a wide variety of cheerful elves and animals and customize with the name or nickname of your choice to make a one of a kind Christmas stocking you are sure to love. Made from 100% polyester, this personalized Christmas decoration is...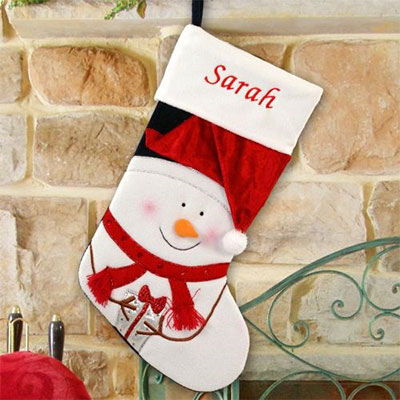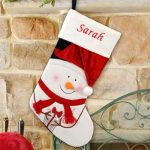 $

14.98
Embroidered Snowman Stocking
$14.98
The personalized snowman stocking will look great on your mantle, wall or staircase this holiday season. Created from cotton and velvet, this Christmas stocking features a cheerful snowman complete with a festive red sequined scarf and red Santa hat. It measures 19 inches long and includes plenty of room for Santa to fill it with wonderful gifts. Customize your snowman stocking with the...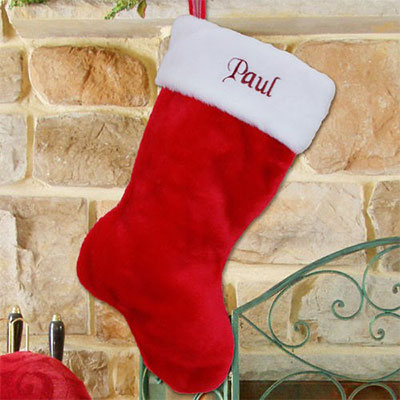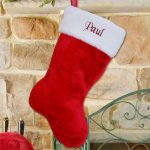 $

9.98
Red Plush Christmas Stocking
$9.98
Remember the old days when you would take your red plush Christmas stocking, a tube of glitter, and proceed to make a terrible mess of things? Well not anymore. This red plush Christmas stocking is professionally embroidered with the name or nickname of your choice to create a beautifully personalized decoration just for you. You won't have to worry about Santa trying to stuff your gifts inside...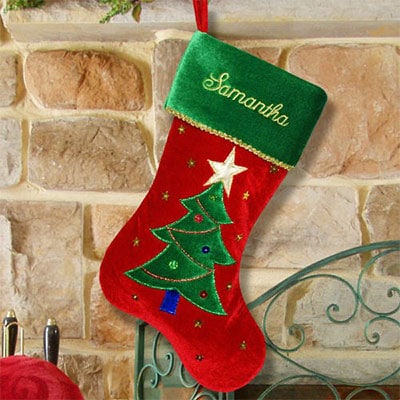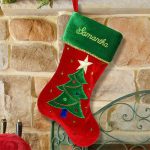 $

12.98
Christmas Tree Embroidered Stocking
$12.98
Fabulously designed and beautifully crafted, this embroidered stocking is the perfect addition to your holiday home. Created from delightful red velvet and festive gold trim, this Christmas stocking is topped with a cheerful green cuff and an applique tree for an old fashioned holiday appeal. Choose to have your stocking personalized with gorgeous gold embroidery for a customized touch that is...
The Tradition of Christmas Stockings
For centuries, Christmas stockings have been an important part of our holiday traditions. While there are many legends that explain how the tradition of hanging stockings came about, our favorite here at ChristmasGifts.com goes something like this:
Many years ago, a widowed merchant began facing financial struggles while trying to take care of his three daughters. In those days, women brought money or property (called dowries) to their husbands when they were wed. With no extra money and nothing of value to offer, the man became distraught, worried that his three lovely daughters would suffer a life of shame with no husbands in their futures. Saint Nicholas, who happened to be traveling through the merchant's village, heard of the family's predicament. He knew the man would not accept charity, but he wanted to help.
He carefully slid down the man's chimney and discovered the freshly laundered stockings the daughters had placed near the fire to dry. He quickly filled them with gold coins and vanished into the night. When the story of his visit spread, children everywhere began hanging their stockings by the fire in hopes of receiving gifts as well.
Sensational Christmas Stockings for One and All
These days, children aren't the only ones who hang Christmas stockings out on Christmas Eve. Many families display stockings as part of their holiday décor, regardless of their age. In some homes, Christmas stockings are put out for family members and close friends who are expected to attend holiday celebrations. In others, only the immediate members of the household receive stockings. Some families even hang stockings out for their pets! Christmas stockings add so much excitement and joy to holiday celebrations for the young, the young at heart, and even our furry friends.
Christmas Stockings Your Way
As the popularity of Christmas stockings has grown, so has the wonderful selection of styles, shapes and sizes. Whether you are interested in glamorous, plush or glittery stockings to add pizazz, you're searching for old fashioned holiday décor to match your more traditional style, or you want a collection of personalized stockings for every member of your family, there are countless designs to choose from.