Kids love the feeling of importance that they get when they receive special gifts that are personalized just for them. Select from personalized books, collectibles, photo frames, toys and more here at ChristmasGifts.com.
Editor's Choice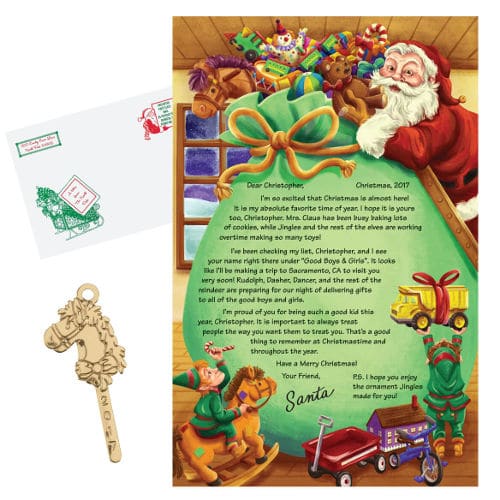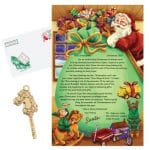 $

5.99
Personalized Letter From Santa
$5.99
What's more magical than a letter from Santa, personalized and addressed to your children, grandchildren, nieces, or nephews? Give them a small, early Christmas gift before the big morning, and get them excited for their presents from Santa! For just a few dollars, your kids will receive a beautiful letter straight from the North Pole, complete with Santa's personal stationery and...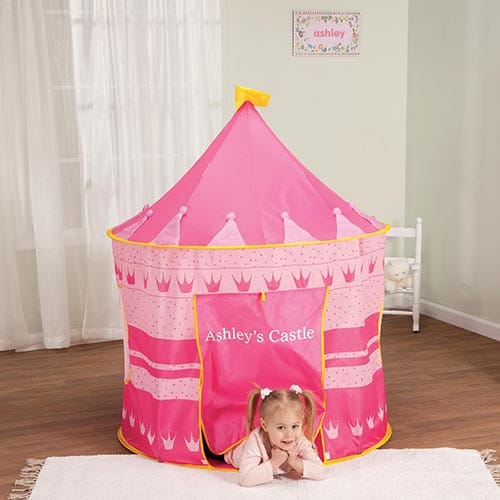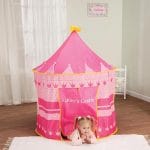 $

29.99
Personalized Children's Tent
$29.99
Do your children like to play kitchen with their play pots and pans, or play house with their babydolls? Then they'll love this play kingdom tent to play kings and queens! Order them this personalized castle tent from Miles Kimball this Christmas! It can be the setting for all of the royal orders, dragon slayings, knightings, and magical dances. Help fuel their imagination! The Personalized...
Featured Gifts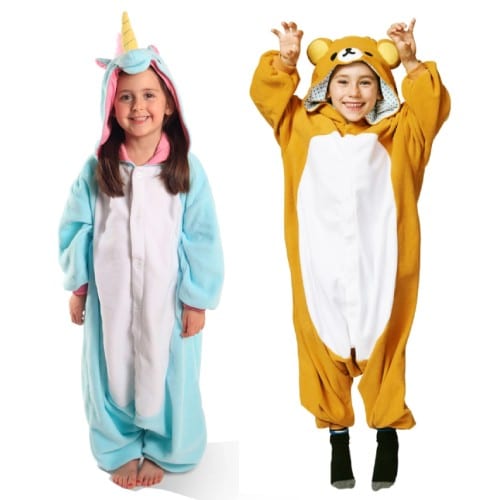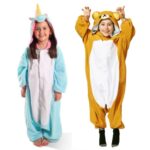 $

59
Kigurumi Onesies for Kids
$59
Everyone loves dressing up in a onesie to relax and have some fun, right? What's not to love? Wearing Kigurumi not only feels so comfortable, but it is also really liberating too. Kigurumi is Japanese for 'costumed character'. It first appeared in Japan in the late '90s, quickly became part of their culture, and has remained an iconic part of Japanese street style. Today, Kigurumis are...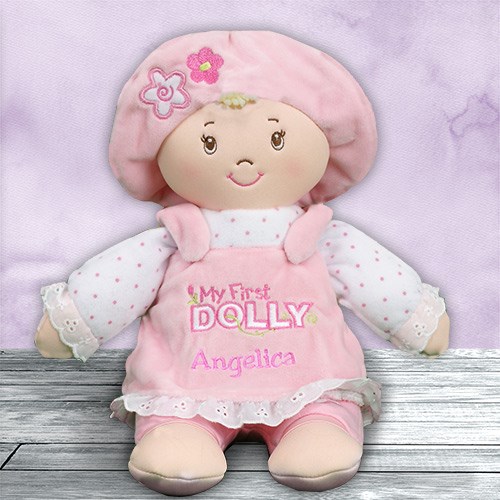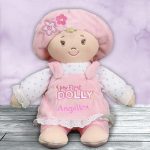 $

27.98
Personalized My First Dolly #E0007X
$27.98
Sweet little babies deserve gifts just as sweet as they are, and this personalized "My First Dolly" is just right! She is soft and huggable, with a completely stuffed head, body, arms and legs – meaning no hard parts to interrupt snuggling! She comes in your choice of either blonde or brunette hair peeking out from her little pink flowered hat. She is dressed in a soft velvet-y jumper style...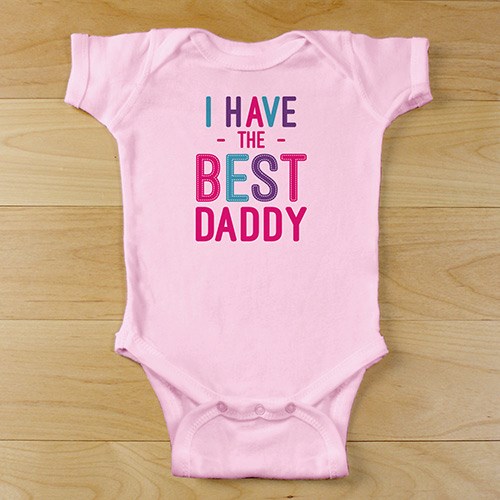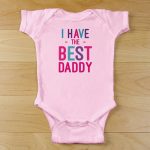 $

17.98
Personalized I Have the Best Daddy Infant Bodysuit #9310418X
$17.98
Darling little babies that can't yet talk certainly can get their messages across in other ways! This charming baby onesie can let someone special know that they are loved and appreciated when you dress your little oneto show that they have the very best Daddy, Mommy, Grandma or other title! You can choose from a pink personalized onesie or a light blue personalized baby bodysuit, each one has...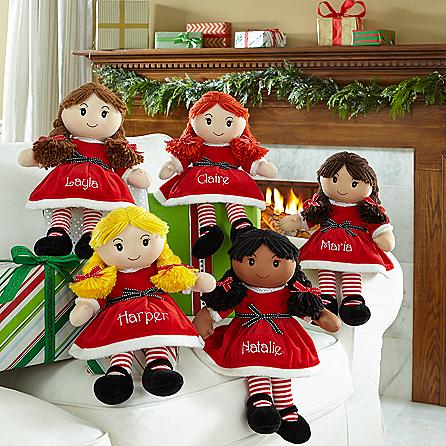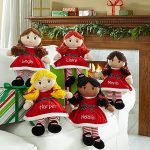 $

29.99
Christmas Personalized Rag Dolls
$29.99
These Christmas Rag Dolls are created especially with your little girl in mind, and will make a wonderful Christmas gift for that little lady in your life. Festively dressed in a plaid Christmas dress, red or green tops, and darling velvet shoes, these adorable rag dolls are available in Caucasian, Hispanic, Asian or African American and are designed to resemble your little girl. A gift that is...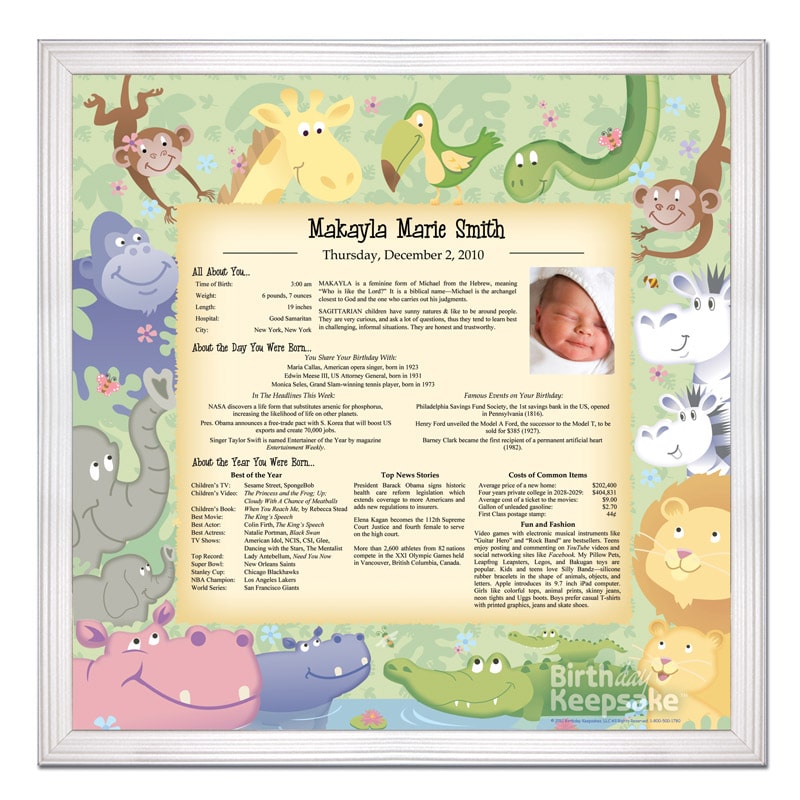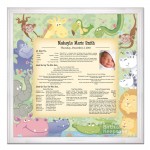 $

9.99
Personalized Day-You-Were-Born Print
$9.99
These beautiful prints provide a charming way to capture the memories and history of the day someone was born. Available from 1950 to the present, they make a unique gift for all ages. Each print contains your loved one's name, birth date, their name meaning and birth stats (optional). Also included are famous birthdays, current headlines, top sports teams, movies, TV shows, fashion trends and...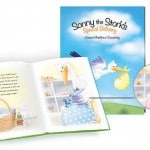 $

32.95
Adorable Personalized Book
$32.95
In Sonny the Stork's Special Delivery, Sonny and his little buddy Berry the Bluebird fly your way with a charming story all about the day your child was born. With fun read-aloud rhymes and adorable illustrations, the lucky star of this story is sure to have a new favorite book. The engaging story includes everything about your child's very own special delivery: full name, gender, date, time,...
Personalized Christmas Gifts for Kids
Children of all ages adore discovering personalized Christmas gifts for kids under the tree. Unfortunately, searching for creative personalized gifts can be quite frustrating during the holidays, especially if your child has a unique name. Since most discount stores don't offer personalization for their products, and many specialty stores are backlogged during Christmas, if you're looking for an out of the ordinary personalized gift for kids, or your child isn't named Bob or Ann, you might have a problem. Since we understand how meaningful finding personalized Christmas gifts for kids can be, we've located some of the most wonderful merchants on the planet to help you out this year.
Our select merchants offer personalization for hundreds of unique items, and since each product is custom designed the way you want it, less common names and other kid specific information is not a problem!
Personalized Christmas Gifts for Kids of All Ages
Whether you are shopping for a unique personalized gift for that special teen, something fun for a toddler, or simply a child with an uncommon name, our merchants are ready to create a customized gift especially for him or her.
Gifts for Babies: We've got loads of ideas for personalized Christmas gifts for babies this year! Consider personalized apparel, a custom created "Day You Were Born" print, or a magnificently unique custom made Voice Art print to go in the nursery.
Gifts for Girls: Let that little girl in your life know how special she truly is with a dainty personalized necklace, a personalized doll that is custom designed to look like her, or a personalized jewelry box for all of her favorite things.
Gifts for Boys: Your little buddy is going to love receiving a personalized storybook this holiday season! Just imagine his surprise when he sees his own name and the names of some of his loved ones incorporated into a real live story! And if that boy in your life is too old for storybooks, you could even consider a personalized frame for his latest sports photo or class award, or maybe even a personalized wooden box to keep all of his special treasures safe.