Beautiful Christmas ornaments are a wonderful way to capture the warmth and excitement of the holiday season, and we've got a magnificent selection that you are certain to adore for many years to come.
Editor's Choice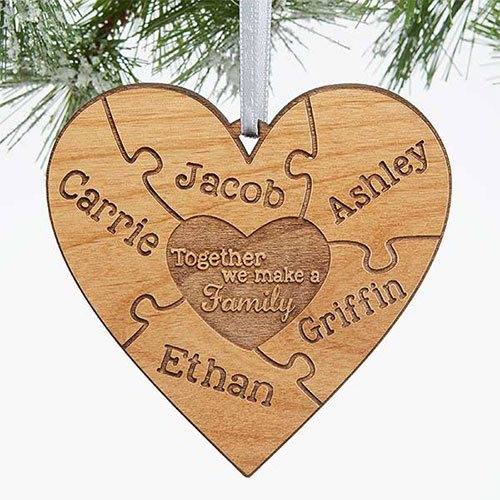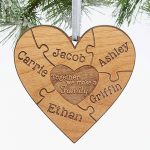 $

16.95
Wooden Heart Custom Family Ornaments
$16.95
Christmas is all about family. It's about strengthening family bonds by taking part in holiday traditions, spending time together, gift giving and showing appreciation for one another. Sometimes, even the smallest gesture can bring the family together. Other times, it might be more challenging to get everyone in the holiday spirit. A custom family ornament can be a nice reminder that family...
Featured Gifts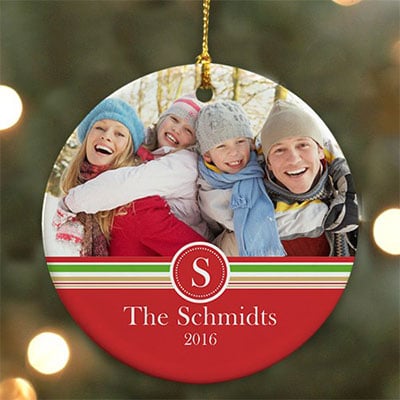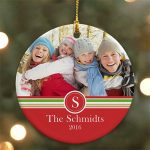 $

13.64
Family Photo Ceramic Ornament
$13.64
This family photo ornament is a wonderful way to remind your loved ones how much they mean to you during the holiday season. Created from flat sided ceramic, this personalized ornament features the special photograph of your choice, your family initial, and up to two lines of your name, greeting or favorite sentiment to make a one of a kind decoration that is sure to be loved. The family photo...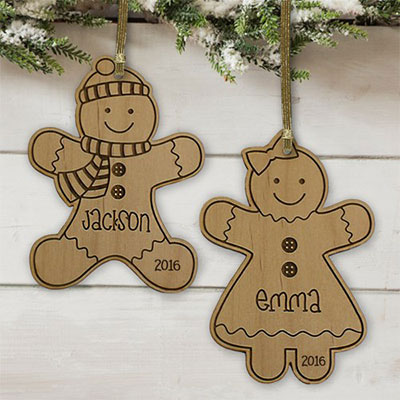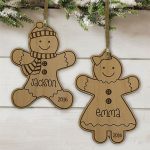 $

13.64
Personalized Gingerbread Wooden Ornament
$13.64
An adorable gift for that gingerbread fanatic in your life, this personalized wooden ornament looks almost good enough to eat. Created to look just like those yummy gingerbread cookies, these fun ornaments are available in both boy and girl versions. Talented craftsmen will customize your ornament with laser engraving that features the name of your special recipient to create a magnificent...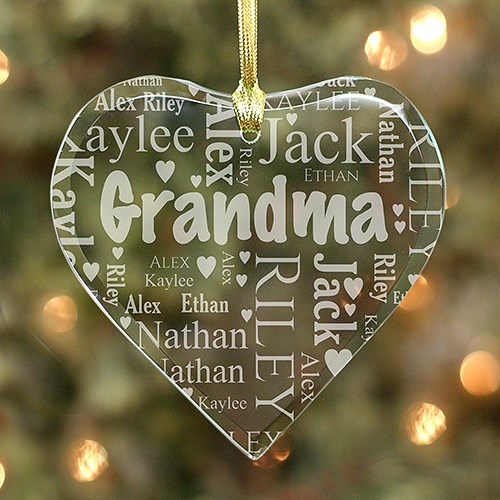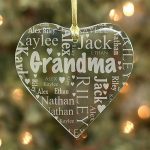 $

15.06
Grandma's Heart Glass-Art Ornament
$15.06
When a baby is born, a heart's love isn't divided – it's multiplied. A Grandma gets to double, triple, quadruple the size of her love and it knows no bounds. This sweet glass ornament features the names of her little loves all wound together in a beautiful arrangement of personalized word-art. Names are positioned vertically and horizontally in varying sizes and...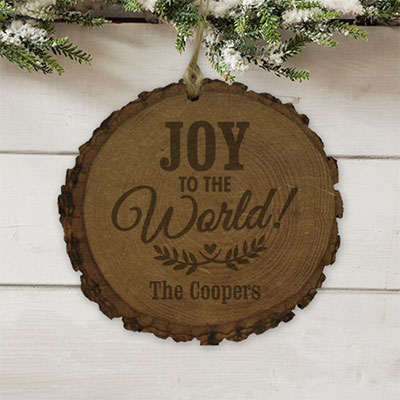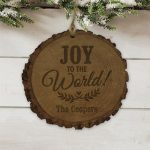 $

13.64
Personalized Joy to the World Rustic Wood Ornament
$13.64
This unique Christmas ornament is a wonderful way to bring a rustic feel to your holiday décor this year. Created from wood-like material, this stylish decoration measures approximately 3.5-4 inches in diameter and is 0.25 inches thick. With beautifully lasered designs and lettering, it is certain to become a wonderful holiday keepsake for you and your loved ones. Personalize your ornament for...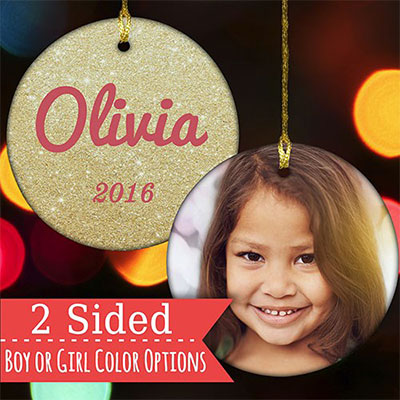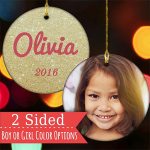 $

17.19
Glitter Photo Ceramic Ornament
$17.19
This personalized photo ornament is certain to add some shine to your holiday home this Christmas and for years to come. Created from glittery ceramic, this magnificent Christmas decoration measures 2.75 inches in diameter and even includes a convenient ribbon loop to make hanging a breeze. On one side, this unique photo ornament can be customized with any name and year in the design color you...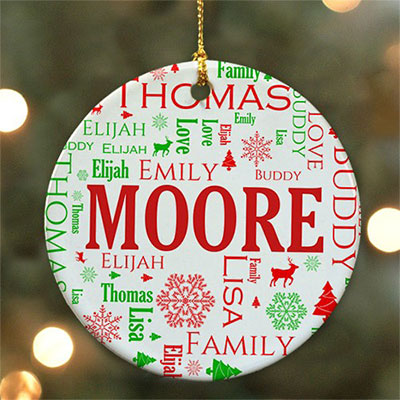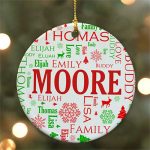 $

15.06
Word Art Ornament
$15.06
This creative personalized Christmas ornament is certain to bring joy to the entire family this holiday season. Created from flat sided ceramic, this artistic piece measures 2.75 inches in diameter and includes a festive ribbon loop just right for hanging. Customize your unique decoration with the family name and the first names or nicknames of those you hold dear. You will have a great time...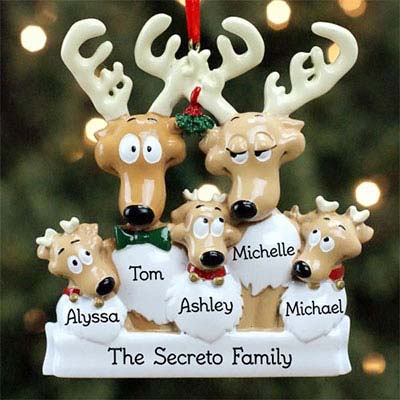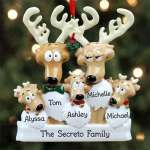 $

13.64
Personalized Reindeer Family Ornament
$13.64
It's sure to be a jolly Christmas when you add this personalized family ornament to your holiday décor. Featuring a whimsical design, two parent reindeer and up to five child reindeer, this piece will add a fun-loving touch to your festive celebrations this year, and for years to come. Sure to be the talk of the party, it's certain to bring a smile to friends and family members. This unique...
Sensational Christmas Ornaments to Brighten the Holiday Season
Whether you are searching for whimsical Christmas ornaments for the kids, handcrafted or personalized ornaments to treasure, or shimmering pieces to add some pizazz to the tree, our fabulous merchants have just what you need. Choose from stunning, traditional style creations, festive characters, and so much more to brighten up your holiday home. Forget about those mass-produced Christmas ornaments down at the local big box store, many of our unique ornaments are one of a kind items you simply won't find anywhere else.
Christmas Ornaments Make Terrific Christmas Gifts
Christmas ornaments are fabulous Christmas gifts for everyone on your list. Present them to that newly married couple to help them begin building special memories, hand them out to coworkers at your next holiday business party, use them to celebrate baby's first Christmas, or give them to parents and grandparents to add to their holiday keepsake collection. Holiday ornaments make great stocking stuffers for the kids as well! Be sure to check out photo ornaments that bring Christmas memories back to life, personalized family ornaments that feature your entire family, or even container ornaments that are designed to hold tiny gifts.
The Many Uses of Christmas Ornaments
Christmas ornaments don't have to be just for the tree! In fact, there are tons of things you can do with these magnificent creations to liven up your home during the holidays.
Shelves and Mantels: A collection of character ornaments, for example, can be arranged in a unique way to dress up your favorite shelf or fireplace mantle. Use your favorite ornaments by themselves, or group them together with other Christmas decorations to create a magical winter scene.
Wreaths and Garland: Customize your wreaths and garland when you attach Christmas ornaments to them in just the right places. Create a "Years of Christmas" display when you add ornaments of the year to a string of lighted garland, or arrange them on various lengths of garland to decorate doorways and window tops.
Tabletop Centerpieces: A quaint collection of brilliant ornaments make a unique conversation piece for your dining room table. Arrange them on a holiday platter sprayed with a little fake snow and you have a centerpiece that is truly one of a kind.