Home is where the heart is, and these unique gifts are perfect for making your loved one's home one of a kind. With custom made photo frames, unique wall art, one of a kind lamps, creative collectibles, and even hand-made Christmas ornaments our selection of gifts for the home is truly one of a kind.
Editor's Choice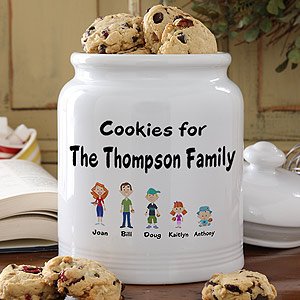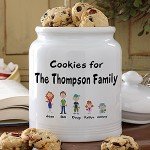 $

39.95
Personalized Family Cookie Jar
$39.95
Because every family enjoys baked goodies, sweets and treats, a personalized cookie jar makes for a delicious Christmas gift. What makes this personalized cookie jar exceptional is that you can customize it with so many options! You can add two lines of text on top of the custom cookie jar to specify the family name or a fun, personal message. You can then add up to eight family member characters...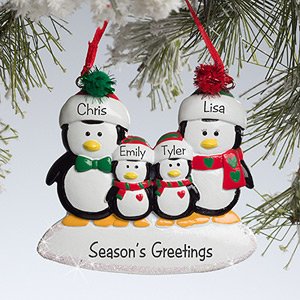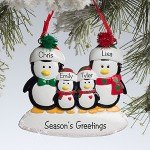 $

15.95
Personalized Penguin Family Ornament
$15.95
This absolutely adorable penguin family ornament is a perfect Christmas gift for family and close friends. The unique Christmas ornament can be personalized with three to six family member's names, each professionally engraved. Additionally, you can choose to include any family title, last name or a short personal message in the shimmering snow on the bottom. Handcrafted using vibrant colors...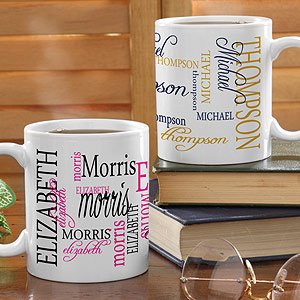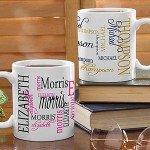 $

9.99
Signature Style Personalized Coffee Mug
$9.99
A custom mug is one of those ingenuous gifts that can work for practically anyone—a family member, close friend, coworker, teacher, next-door neighbor—you name it. What makes an ordinary mug extraordinary is how you customize it. And the Signature Style personalized coffee mug makes this easy and elegant. Simply add any name and select the colors you like and the unique design is created for...
Featured Gifts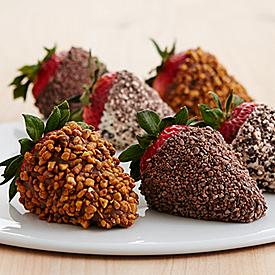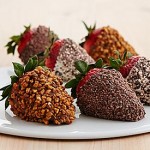 $

39.98
Full Dozen Gourmet Dipped Premium Strawberries
$39.98
These magnificent premium strawberries are a sweet sensation all by themselves, but when they are dipped in luscious chocolate and topped with an abundance of delectable treats, they become simply irresistible. Wonderful unique Christmas gifts for all of your friends, family members and coworkers, these delightful chocolate dipped berries will make a magical addition to your holiday festivities...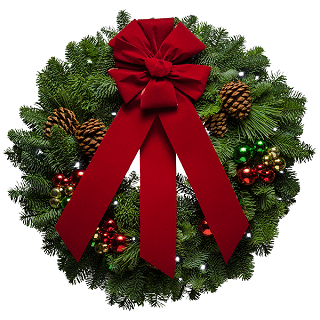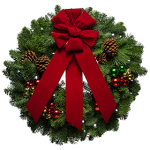 $

56.00
Jingle Bells Christmas Wreath
$56.00
Delight children of all ages this Christmas Season with the Jingle Bells Wreath from Christmas Forest. This captivating arrangement of twinkling lights, jingling Christmas bells and brightly colored ornaments that are tastefully placed amongst freshly cut noble fir and princess pine, and accompanied by a gorgeous red ribbon bow, is the perfect addition to any holiday décor. An inspiring design...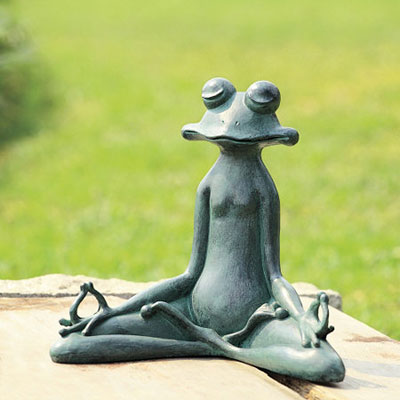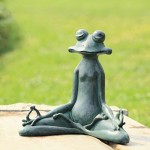 $

89.99
Contented Yoga Frog Garden Sculpture
$89.99
A charming addition to her home collection or garden display, this tranquil toad is the perfect Christmas gift for women who are in tune with nature, yoga enthusiasts, and frog collectors alike. As the Contented Yoga Frog Garden Sculpture strikes the perfect meditation pose that leaves him measuring approximately 12 inches high and 13 inches wide, this delightful frog is sure to add inspiration...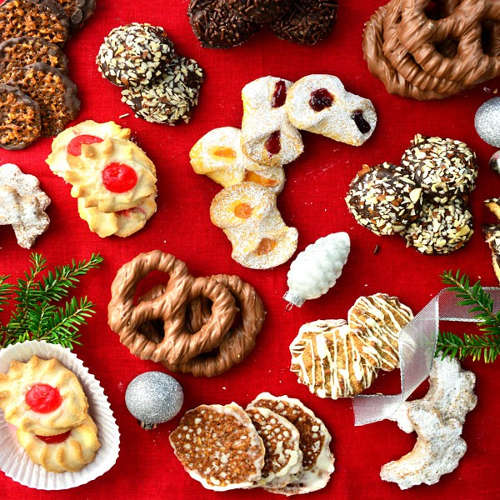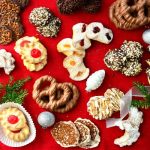 $

49
DeLallo Cookie Crush Gift Collection
$49
What spreads holiday spirit better than Christmas cookies? This Cookie Crush Gift Collection from DeLallo is the perfect Christmas present to give to your friends or family that need some holiday cheer in their new home. Make this cookie sampler your go-to housewarming gift, because it is a simple gift, yet unique. This would be a sweet treat of a gift for anyone, or a fantastic dessert to bring...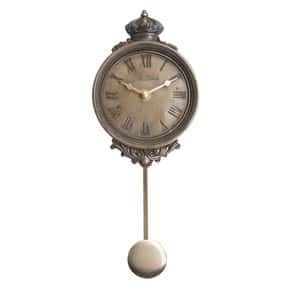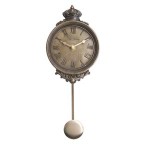 $

51.00
New Haven Cold Cast Bronze Crown Pendulum Clock
$51.00
The New Haven Cold Cast Bronze Crown Pendulum Clock adds just the right touch of antique artistry to any home or office. It would make an elegant gift that is likely to be treasured for a lifetime. This handsome pendulum wall clock is artistically hand carved from cold cast bronze for a look that is seemingly aged to perfection. The pendulum is made of an antique bronzed aluminum to complete the...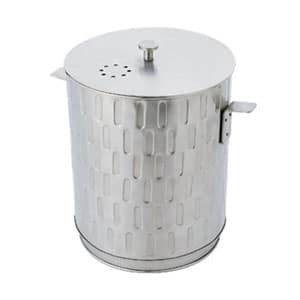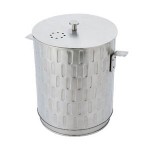 $

58.95
Kitchen Compost Pail with Carbon Filters
$58.95
The Kitchen Compost Pail with Carbon Filter is a unique and environmentally friendly holiday present for nature-loving individuals on your list. This silver compost pail with carbon filters will allow your loved ones to save kitchen scraps and convert them into compost for use in their gardens. This stylish, eye-catching apparatus will surely give your loved ones home a pleasant smell due to...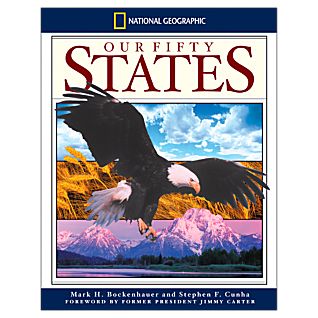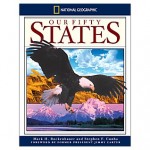 $

24.95
National Geographic Our Fifty States Reference Book
$24.95
This new edition of The National Geographic Our Fifty States Reference Book. written by author Stephen F. Cunha, is categorized as a children's reference book, and includes fascinating illustrations, highly detailed maps, and compelling essays written by members of Society's Geographic Alliance Program. Kids will discover the captivating details behind each state's unique history from...
Unique Housewarming Christmas Gifts
Home is where the heart is, and unique housewarming Christmas gifts are definitely the way to go if you're searching for something extra special this holiday season. When you present your loved one with a well thought out gift for the home, you bring a touching reminder that your thoughts are with them as they settle in to their new house or apartment. Unique housewarming Christmas gifts can be functional items that make your loved one's day to day life more convenient, decorative gifts that inspire the recipient to express his or her one of a kind style, or comfort gifts that put a part of you close to your loved one throughout the year.
Since our family at ChristmasGifts.com understands that you won't find unique housewarming Christmas gifts at big chain stores, and your busy holiday schedule makes it difficult to scour the inventory of all of those tiny shops downtown, we've done the legwork for you.
Unique Housewarming Christmas Gifts to Welcome Your Loved One Home
We've got some exciting ideas for unique housewarming Christmas gifts your recipient is sure to love this holiday season!
Christmas Decorations: A special Christmas decoration can become a treasured piece that will remind your loved one of that first Christmas in the new home year after year. Families and couples will appreciate the personalized character ornaments that display their names and the year, or a new set of personalized stockings to dress up the mantle.
Yard, Garden & Patio Gifts: There is nothing quite like a unique yard sculpture or other outdoor decoration to make patios and gardens seem more welcoming. Add a festive touch to your loved one's yard with a fun holiday display, or consider a gnome or other cute character to bring cheer all year long.
Gift Baskets: Let your recipients know you are thinking of them with a high quality gift basket from one of our merchants. Choose from gourmet Christmas gift baskets, floral gift baskets, or select a monthly gift club and send your loved ones a new housewarming gift selection periodically throughout the year.