These unique Christmas gifts are sure to warm her heart this Christmas. With one of a kind items, personalized gifts, and creative collectibles that you simply won't find anywhere else, you are certain to find that special present that is as unique as she is. Be sure to check out our great selection of gift baskets and "of the month club" memberships while you are here.
Editor's Choice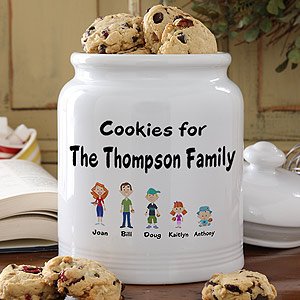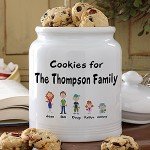 $

39.95
Personalized Family Cookie Jar
$39.95
Because every family enjoys baked goodies, sweets and treats, a personalized cookie jar makes for a delicious Christmas gift. What makes this personalized cookie jar exceptional is that you can customize it with so many options! You can add two lines of text on top of the custom cookie jar to specify the family name or a fun, personal message. You can then add up to eight family member characters...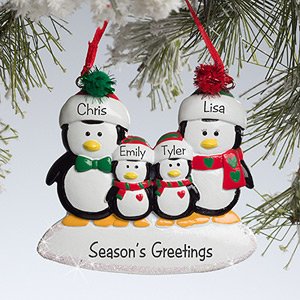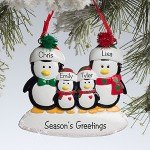 $

15.95
Personalized Penguin Family Ornament
$15.95
This absolutely adorable penguin family ornament is a perfect Christmas gift for family and close friends. The unique Christmas ornament can be personalized with three to six family member's names, each professionally engraved. Additionally, you can choose to include any family title, last name or a short personal message in the shimmering snow on the bottom. Handcrafted using vibrant colors...
Featured Gifts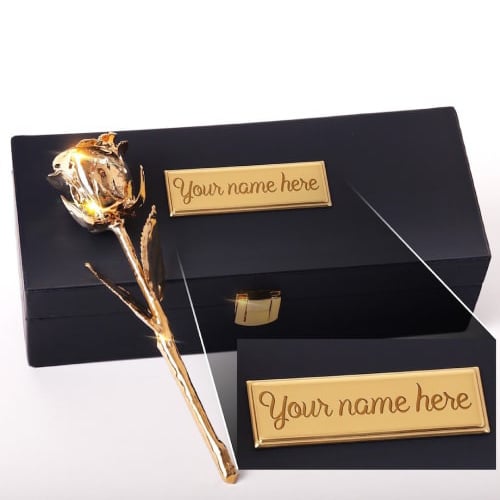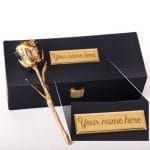 $

155
Custom Engraved Box – 24 Karat Gold Dipped Natural Rose 7″
$155
Who would be able to resist this custom engraved box – 24 karat gold dipped natural rose 7″ resting inside? The leather luxury display case is adorned with a gold label where you can add the name of your loved one or a meaningful phrase so that it is intensely personal for the recipient. Inside the case is a real red rose that measures about 7″ that has been dipped in 24 karat...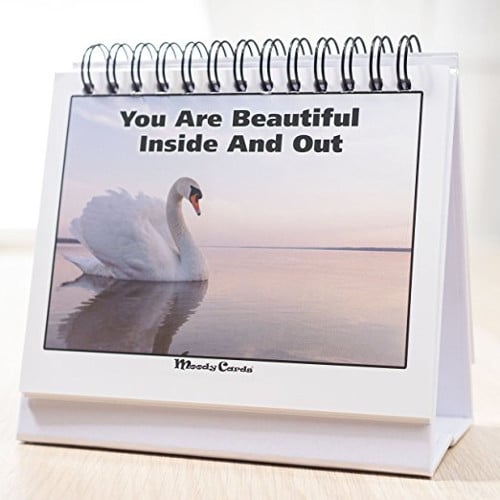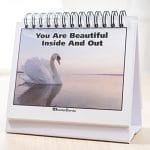 $

9.88
Moodycard Spiral Animal Greeting Card Booklet
$9.88
This holiday season give the gift of loving and sweet messages to your friends and family. These tabletop message booklets of full of inspirational and appreciative sayings feature beautiful and stunning photographs of animal wildlife that anyone is sure to love! With over twenty images and sayings, anyone you give this Moodycare Spiral Greeting Card Booklet to will definitely feel cared...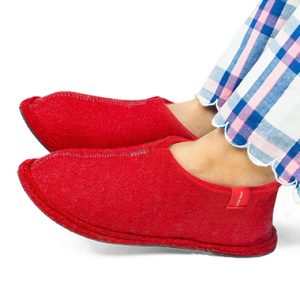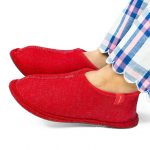 $

34.99
Slippers
$34.99
Treat someone special to a pair of comfy felt slippers made with 100% merino wool. They're perfect for lazy mornings and relaxing at home after a long day. These felt slippers feature 6 mm thick wear-resistant felt that keep feet warm yet are light and breathable. Their sleek design hugs feet while conforming to their unique shape. Plus, an anti-slip textured rubber outsole provides some...
Unique Christmas Gifts for Her
Let her know that you really put some thought into her presents this year by purchasing unique Christmas gifts for her. Forget about those ordinary items that are lurking throughout the aisles of all of the big chain stores. Chances are she has already seen them, and we're going to bet she wasn't impressed. When you present her with out of the ordinary Christmas gifts, however, she is sure to be surprised.
There is just something about an off the wall gag gift, a thoughtful personalized gift, or a one of a kind customized gift that is almost guaranteed to make a lady feel special, and with hundreds of ideas for unique Christmas gifts for her right here at ChristmasGifts.com, holiday shopping has never been more simple. Our fabulous merchants offer a wide variety of custom made items, handmade creations, and other unique gifts you can't find just anywhere, and we can't wait to show you a few of our favorites!
Our Favorite Ideas for Unique Christmas Gifts for Her
Narrowing our abundance of ideas for unique Christmas gifts for her wasn't easy. With all of our creative products, it was hard to choose just a few. Be sure to check out all of our merchants and the wonderful products they offer for even more ideas!
Christmas Gifts for the Home: That lucky lady in your life will love having something unique that she can display in her home and share with visitors throughout the year. With items like personalized kitchen products, unique garden art, beautiful yard displays, and customized photo frames and wall décor, there is plenty to choose from in our selection of Christmas gifts for the home.
Christmas Gift Certificates: While those big box stores offer a variety of generic gift certificates, our merchants feature gift certificates for unique items like experience gifts, dinner of the month clubs, and a number of other fun options that are sure to make her day.
Gift Baskets: Gift baskets will make wonderful unique Christmas gifts for her this year, and they are available in all shapes and sizes and filled with imaginative goodies she's sure to love. Choose from premade gift baskets filled with sweet and savory treats, one of a kind gift baskets that contain handmade gourmet chocolates, or even mystery gift baskets for a out of the ordinary surprise.