Featured Gifts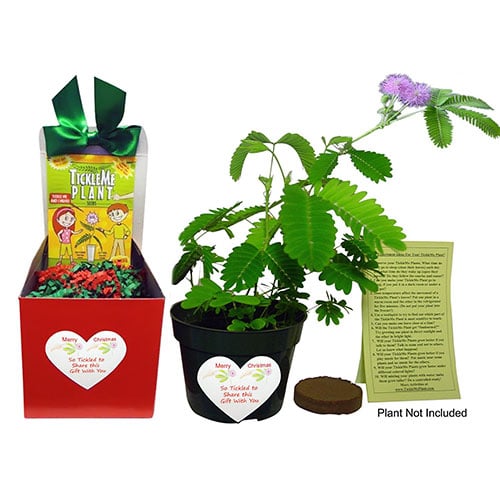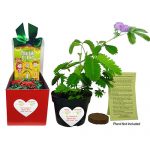 $

17.95
TickleMe Plant Christmas Gift Box Set
$17.95
This Christmas gift is a fun and exciting idea for the whole family. Everyone on your list will love growing a TickleMe Plant from seeds and watching how the leaves fold together like magic when tickled. Adult plants can even produce sparkling pink flowers for added beauty in your holiday home. Great for nature, science and plant lovers of all ages, this unique Christmas gift can be grown...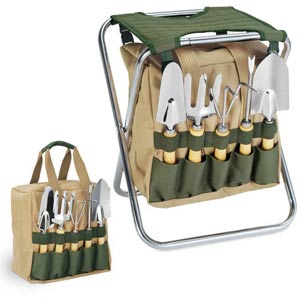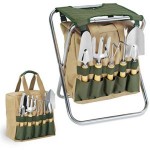 $

59.95
Picnic Time Gardener Folding Chair with Tools – Green
$59.95
This Green Picnic Time Gardener Folding Chair with Tools makes an excellent gift for that gardener on your Christmas list this year! Its innovative design and quality craftsmanship are sure to impress even the pickiest gardener on your list for years to come! The durable folding gardening chair with a green quilted seat provides both comfort and convenience, and can be folded away neatly when in...
Plants as Christmas Gifts
Plants and flowers are a big part of Christmas. There is the obvious Christmas tree, which we proudly display in our homes each year. Poinsettias and Holly also come to mind, coloring the season with deep reds and greens. Wreaths are hung proudly on doors and given as Christmas gifts.

These are the classic images associated with Christmas plants, but there is so much more. Remember, house plants are gifts too, especially when in a nice pot or display. Palms and tropical house plants are cheery gifts for acquaintances. You may not think it, but bulbs are a wonderful seasonal gift idea—and just in time for winter planting. Anyone with a green thumb will appreciate this timely gift. Add an artsy gardening tool or watering pail, and you're set.
Even a cactus can look friendly when presented correctly. Many nurseries consider botany an art and take pride in high quality presentation. Remember, certain types of plants require commitment on the recipient's behalf. Be sure to give something that is either easy to care for, or not expected to live very long (like flowers or other cut arrangements).
In fact, if you're not sure, send flowers. They are truly universal. Designed to impress, they fill a room with vivid colors and fragrance. Everyone loves a flower delivery, whether in person or by a company. Check out our huge array of flowers and plants you can send with the click of a button.
When to Send Flowers:
Flowers are great gifts for almost any occasion, even Christmas. Here are other times you can make a big splash by sending flowers:
When you're in love—Red roses say I love you in a romantic way. It's acceptable, and desired, to send these flowers for no occasion at all.
Thank You—Do you have a teacher who has inspired you or your child? What about a friend who has helped you in some way? Even if it's a thank you for something small, your flowers will say it all.
Sympathy—Death, illness or surgeries—these problems can't be solved by you, but flowers might brighten the moment.
Christmas—Wish you could be with relatives who live far away? Have flowers delivered on Christmas Eve and be there in spirit.
Sorry—Oops, you did it again. Soothe and repair your relationship with a pretty bouquet.
Mother's Day—Show appreciation to any important woman in your life. On Mother's Day flowers are sweet and respectful.
Birthday—It's all about you when you receive a flower delivery, especially when your friends get to see it. Surprise your loved one with flowers at the office or school. Add a personalized note and they'll be walking on cloud nine.
Congratulations—Flowers are a reward that anyone can enjoy. They say "good job" in color.
For No Reason at All—Some say this is the best reason to send flowers.
Unusual Plant Gifts
Plants don't have to be boring, and they don't have to follow any kind of code. Unlike flowers, specific plant species don't mean certain things. For example, there is no universal house plant for sympathy or love. The message is what you make it, and the plant can be almost anything. This a plant the perfect Christmas gift.
Keep in mind, when giving unusual plants as gifts, that you are aware of any poisonous qualities to the present. Poinsettias, for example are toxic when eaten. This doesn't disqualify it as a present in most situations, but you may want to think twice before bringing on to a home with young children. Never give plants that are known to cause irritation or allergies.
Remember to include care instructions with plant gifts. This will save your recipient time and energy. It helps to have a plastic card in the plant soil, or written instructions that can be kept somewhere handy.
Here are some unusual plant gift ideas. Some are for fun, others are practical.
Basil Plant—Keep it by an inside window and have fresh herbs all year long. Basil can be used fresh or dried, and comes in a variety of species. Consider lime or chocolate basil for a twist.
Carnivorous Plants—Have a fly problem? Get a Venus Fly-trap. It's interesting and educational to watch these plants devour a meal.
Tree— You can sponsor a baby tree in a new park, or plant a tree in your own backyard. Either way, your and your recipient will both feel joy at this Christmas gift.
Flower plants—Instead of cut flowers, give the live plant. It will bloom year after year, providing flowers for the table and the yard.
Orchids—While they may be tricky to keep alive, Orchids are beautiful and exotic.

Want to see our best Christmas gifts for this upcoming year? Click here to see them now!