Featured Gifts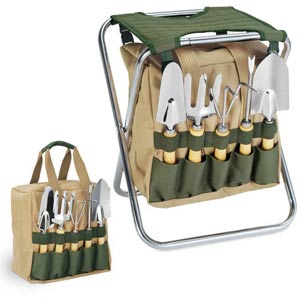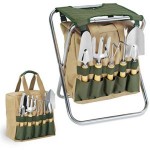 $

59.95
Picnic Time Gardener Folding Chair with Tools – Green
$59.95
This Green Picnic Time Gardener Folding Chair with Tools makes an excellent gift for that gardener on your Christmas list this year! Its innovative design and quality craftsmanship are sure to impress even the pickiest gardener on your list for years to come! The durable folding gardening chair with a green quilted seat provides both comfort and convenience, and can be folded away neatly when in...
Flower & Plant Accessories make fantastic Christmas gifts! Give accessories individually, or as part of a gift basket. In this directory, we've put together some gift ideas that will appeal to any plant or flower lover.
Vases, Glass bottles & Antique Jars
Proudly display your flower arrangement in a large or unusual vase. Use funky, artistic or classic containers to create a fun, party centerpiece. Give vases separate, or with fresh cut flowers inside.
High quality materials such as crystal will last longer. Be wary of ultra-thin materials, as they may not withstand the hustle and bustle of everyday life.
Handmade, Vintage & Designer Potting Containers.
Terra cotta, porcelain, and glass are classic options. Make sure the container you choose has proper drainage. Choose a fancy plant hanger or pedestal display to add stature to your plant gift idea.
Many designers have houseware lines that include pots and plant displays. Designer plant accessories are useful and stylish.
Believe it or not, many of the handmade plant accessories in this directory are made from vintage or recycled materials. Artists have become increasingly more creative with vintage goods, resulting in a plethora of unique plant accessories and gift ideas.
Reused and Recycled Materials.
Metal, glass and plastic can all be re-worked to make one of a kind art pieces. Recycled goods don't have to be cheap either—many professional artists are now turning to recycled goods for home and garden inspiration. In this gift idea directory, you may a find planter box made from an old rowboat, or a modified wine barrel as a tiered herb garden. The possibilities are as endless as the imagination.
Christmas gift ideas that incorporate recycled materials are very popular this holiday season. Encourage sustainability by giving Eco-friendly plant gifts and accessories.
Gardening Supplies & Materials
Every gardener knows—comfort is everything. Knee pads, good gloves, sun protection and skin care are essential to gardeners. Help a friend or family member get the most out of her gardening experience. Give supplies and materials to make her job easier.
Your recipient will appreciate tools to help recuperate from a long day of digging in the dirt. Give a specialty hand lotion, soap or cream in this case.
Let's not forget: soil testers, pH balance kits and pest supplies are essential to the gardener too. While these may not be the most romantic Christmas gift ideas, items like these make good additions to plant accessory baskets or bag gifts.
Floral Tools, Resources & How-To Guides
If you need Christmas gift ideas for a beginner botanist, this is a place to start. There's a lot to know about flowers & plants, and it helps to have your own tools and materials.
Books, videos, magazine subscriptions and classes are all helpful gifts for anyone wanting to learn more about plants and plant accessories.
Check out these additional directory categories: Flowers, Plants.