Unusual Christmas Trees for Your Parlor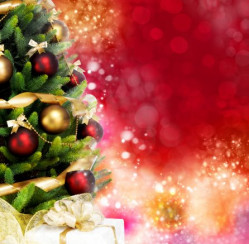 Just because a Christmas tree is normally a green evergreen propped up in your living room, doesn't mean that there isn't room for some creativity. A Christmas tree created with a lot of everyday objects requires a little bit of elbow grease. For the record fake plastic, Christmas trees aren't going to make an appearance here. Most households have embraced the fake tree in a box. The trees discussed here will be found object projects.
So if you want to avoid the maintenance of a tree this year, or just need a change, here are some out of the box takes on Christmas Trees.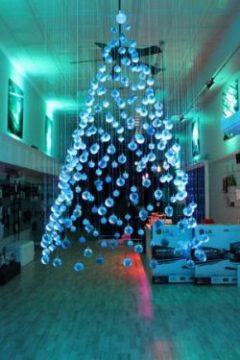 (image source)
The Ornament Tree
Social media sites have been featuring Christmas trees that are fishing line tied to ornaments. The lines hang from the ceiling like a mobile. The result is a whimsical holiday tree that can be taken down and hung anywhere without worrying about height.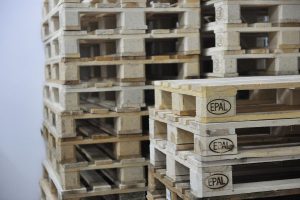 Pallet Trees
A storage saving Christmas tree is the pallet tree. This tree is painted on a pallet and decorated with lights and ornaments through the slats on the pallet. When the holiday season is over, just remove the lights and ornaments and use the pallet for storage.
A Cupcake Tree
A cupcake tree is a rack that is designed to look like a tree when cupcakes are placed in the cups. The cupcakes you use can be iced and decorated with candy, colored sugar, and small shaped cookies. It's a tree you can enjoy during a party, and then, send a cupcake home with your guests.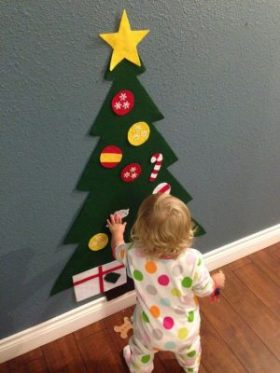 (image source)
Felt Trees
This tree is great for curious young children. Place a large piece of green evergreen shaped felt on the wall. Keep a tote of felt ornaments near the tree on the floor.  Children can decorate the tree and leave it all season long, or redecorate and rearrange it every day. If your little one is fascinated by Christmas trees, maybe this tree is a good fit for you.
Christmas Card Trees
If you receive tons of holiday wishes every year, then a card tree is a good fit. It is a lovely reminder of loved ones and connections you've made throughout the year. Simply place double sided tape on a door or wall in tiers at different lengths, with the longest at the bottom, and hang your Christmas cards on the tape. A card tree is out of the way and is easy to do.
Book Trees
Bookworms will love this idea. Just take a stack of books and stack them at angles until it looks like a tree. Hang ornaments on the corners, and lights or rope garlands to complete a Christmas tree look.
No matter what you use for your holiday decorations, there are all sorts of festive options that go beyond a tree stand. These Christmas tree alternatives are quirky and space saving in some cases. Deck the halls your way!
Creative Commons Attribution: Permission is granted to repost this article in its entirety with credit to ChristmasGifts.com and a clickable link back to this page.