Where Did Santa Claus Come From?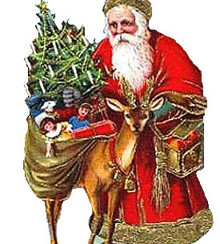 As Christmas day draws near, millions of children around the world wait with excitement for that jolly man in red we call Santa Claus to arrive bearing gifts. Where did this magical and generous man come from, anyway? Is he just some fictional character from a children's book that made his way to fame? According to legend, the joyous, white-bearded man we all know and love has actually been around for hundreds of years.
The story of Santa Claus is based on the tale of a magnificent monk named Saint Nicholas who was believed to have been born in Patara, which is near Myra in modern day Turkey sometime around 280 A.D. Saint Nicholas has become the subject of numerous legends because of his humble generosity. According to one very popular legend, Saint Nick gave away all of his inheritance and spent most of his life traveling the countryside helping the poor and the sick. Perhaps one of the most famous tales is how we saved three young ladies from being sold for prostitution or slavery by giving them dowries so that they could marry after their grief stricken father squandered away their inheritance.
Throughout the years, the legend of Saint Nicholas spread and he soon became known as the protector of children and sailors. Saint Nick was the most popular saint in Europe, and before long, people began celebrating with a great feast on December 6th- which is the anniversary of his death. The legend of Saint Nicholas didn't make its way to the United States, however, until the end of the 18th century when a New York newspaper reported that a group of Dutch families had gathered to celebrate the anniversary of his death.
Why do we call him Santa Claus? The name actually originated from Saint Nicholas' Dutch nickname "Sinter Klaas", which is a shortened version of Sint Nikolaas- Saint Nicholas in Dutch. By the 1840s, the legend of Santa Claus had gained such popularity that he began being featured in holiday advertisements throughout the United States. Before long, "live" Santas were drawing children and their parents to shopping malls everywhere.
In the early 1890s, The Salvation Army, a non-profit organization that helps less fortunate individuals, needed money to fund Christmas meals for the needy. In order to collect donations, unemployed men would dress in the familiar red and white suit, wear a white, fluffy beard, and stand on the street corners or New York ringing bells to solicit money. To this day, those familiar Santas ring bells on the street corners of cities throughout America.
Santa Claus isn't the only magical gift-giver who legends say make an appearance during the Christmas holidays. Numerous other figures around the world are inspired by Saint Nicholas as well. In Germany and Switzerland, Kris Kringle, or Christkind brings gifts to good boys and girls, while Father Christmas is the gift-giver in England.
Creative Commons Attribution: Permission is granted to repost this article in its entirety with credit to ChristmasGifts.com and a clickable link back to this page.