The Best Christmas Cookie Recipes and How to Gift Them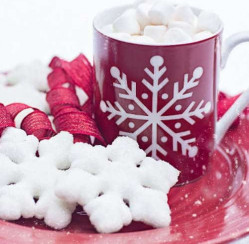 Whew! Did everyone have a successful shopping weekend? Hopefully you finished the majority of your Christmas shopping with Black Friday and Cyber Monday, and the stressful part has passed. So, now it's time to get into the holiday spirit! That means seasonal coffee, festive sweaters, hot cocoa, all of the Christmas movies, evening drives through neighborhoods covered in beautiful lights, and Christmas cookies! Cookies are an extremely thoughtful and heartfelt gift for the holidays, because your recipients will love that you baked for them. As an extra plus, they can also be a fairly inexpensive gift when you have a lot of people to give Christmas presents to. Not to mention the yearly cookie swaps! Talk about baking a ton of cookies. We found some of the best recipes to share with you, with our own tips on how to spruce them up, and how to package them and gift them to your loved ones!
The Best Classic Sugar Cookie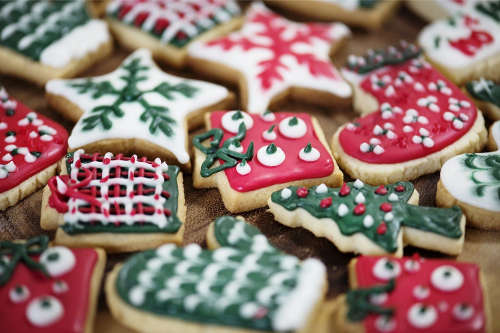 Sugar cookies are always a crowd pleaser because they are like pizza– even bad, cheap sugar cookies are still good ones. If you find a really good recipe that you stick to, these cookies can work for you all year, and you just change up the toppings and decorations for each holiday. For a delicious and standard sugar cookie recipe that will become your new go-to, we like these chewy sugar cookies from Food Network for a good base as a starting point. From there, you can dip them in plain chocolate, festive Christmas sprinkles, or use colored icing or chocolate to turn them into trees, ornaments, mittens, or snowflakes! When it comes to gifting these, our advice is to skip the cocoa mix, chocolates, or candy canes to go alongside them. Sugar cookies are too sweet for cute little coffee-mug-stuffed gifts with bags of cookies and cocoa packets. Save those ideas for other types of cookies, and don't go too overboard on the sugar sweetness. Instead, bake a dozen of these cookies and fill up this this personalized family cookie jar from Personalization Mall for your neighbors, coworkers, friends, or family members!
Classy and Delicious Gingerbread Cookies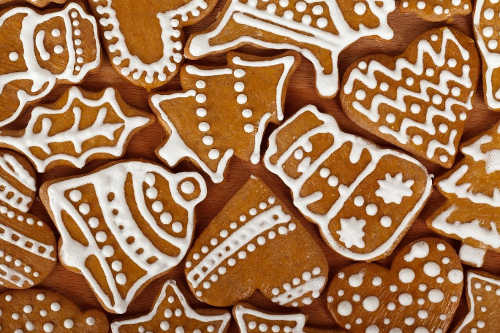 Gingerbread cookies are not like pizza. There is some pretty bad gingerbread out there. It's important to understand that there are two types of gingerbread recipes. One is for sturdy, dry gingerbread. This is what you use to make gingerbread houses, and it can break a tooth if you try to eat it. (This is especially true if it's covered with royal icing. Blech!) The other type of gingerbread recipe is the kind that's made for eating – soft, warm cookies with the delicious spice and aromas of Christmas. For this classic cookie, we like this gingerbread cookie from Iron Chef Alex Guarnaschelli at Food Network. When it comes to gifting this one, our advice is to find a beautiful Christmas platter. Aside from the taste, gingerbread is all about the appearance. So try a couple of test cookies that you can always scarf down later and figure out how you want to decorate them, arrange the pretty ones on a festive platter or serving plate, and gift to your loved ones!
Christmas Butter Cookies: Shortbread and Linzers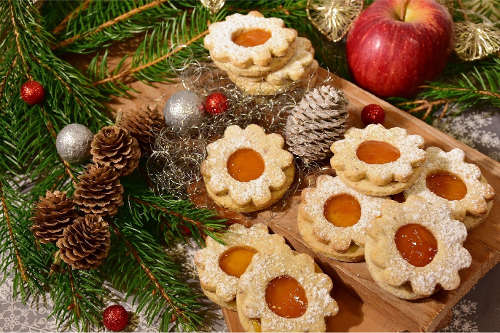 Oh, Christmas butter cookies. There really isn't anything like them. The two biggest and most loved are shortbread cookies, and linzer cookies. If this is your first time making butter cookies, our advice is to go with shortbread. There are fewer steps, and they are more forgiving. To start, make your favorite classic shortbread cookies. When they're done and cooled completely, dip in chocolate or leave plain. One adorable idea is to make these little teddy bears that we're still obsessed with! For linzer cookies, we'll hand you over to Ina Garten. Here is her recipe for linzer cookies on Food Network. She uses raspberry preserves, but you could really use any flavor you like. When it comes to gifting these, our advice is to put a few with a cute Christmas mug, and maybe some festive tea!
Chocolate Cookies with Peppermint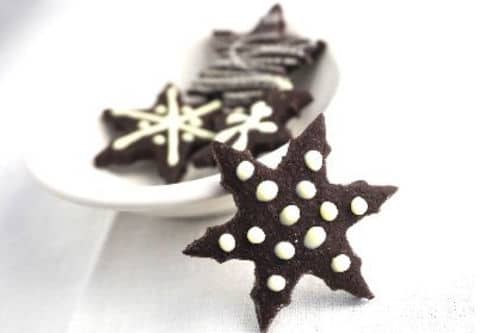 Chocolate lovers are dedicated to their chocolate all year, and Christmas is no exception. Some don't like to fancy up their chocolate love, and don't feel the need to fix something that's not broken. For those people, bake them an insanely chocolatey cookie, like this recipe for The Pioneer Woman's triple chocolate cookies. For those open to a little festive flair, add some crushed peppermint candies and a couple drops of peppermint extract! When gifting this one, go all out and add some hot cocoa mix, with all the marshmallows and fixings. Go crazy with the chocolate goodness! And of course, if you can't resist all of these mouth-watering recipes and you sneak a few too many, order the delightful DeLallo Cookie Crush Collection for your friends and family. Or, just order it now and then you can eat the rest of the cookies you baked! It's a win-win!
What's your favorite Christmas cookie? Share this post and let us know in the comment section below!
Creative Commons Attribution. Permission is granted to repost this article in its entirety with credit to ChristmasGifts.com and a clickable link back to this page