Personalized Christmas Gifts that are Certain to Knock Their Socks Off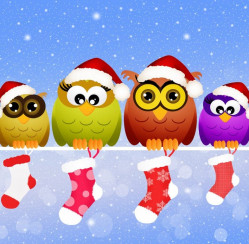 There is just something about personalizing Christmas gifts that makes them even more special. For some reason, it doesn't matter if you already have ten of the same exact type of item, when you receive one that happens to be personalized, it suddenly becomes extraordinary. One of the most memorable personalized Christmas gifts that I ever received was a customized stocking with my own name on it. While I wasn't very old when I received the stocking, I remember just how special I felt to have something that had been created just for me. I can actually remember sitting at the edge of the fireplace as a small child, staring up at my very own personalized stocking that hung above the fireplace, and feeling a sense of pride because that stocking made me feel important. Although I still have that special stocking in my box of keepsakes, it no longer hangs from the mantle.
When I started my own family, I decided that it was time to order new, matching personalized stockings as part of my growing family's Christmas traditions. I have to tell you that I have searched high and low looking for just the right collection of stockings for my family. While I could always go to the big-box store, pick up a few mass produced stockings and a couple of glitter pens and create stockings for everyone in my family, there is just something about unique, handcrafted stockings that sounds so much more appealing.
After talking things over with Mrs. Claus, I discovered some really nice, handmade stockings that she swears will be a hit.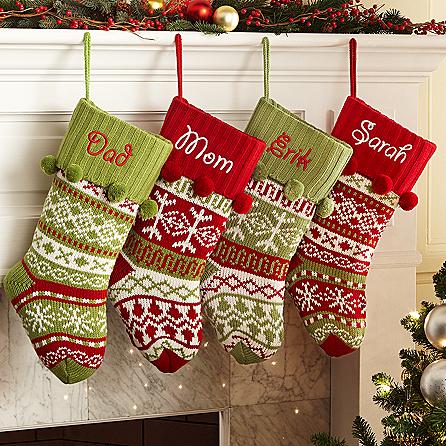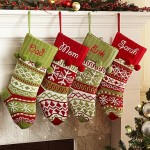 These Knit Argyle/ Snowflake Personalized Stockings are the perfect choice for those who prefer an old fashioned Christmas atmosphere. Created from high quality polyester, these knitted, sweater style stockings are available in your choice of an argyle design or a snowflake design, and come in two different color combinations including red with green and white or green with red and white.  Each stocking can be personalized with any name or nickname that includes up to 12 characters embroidered on the cuff. I think the adorable snowball fringe is what makes this collection one of my favorites.
If you're searching for a Vintage touch this holiday season, these Vintage Handcrafted Needlepoint Stockings, offered exclusively from Personal Creations, are just what your mantle needs. They are made from durable cotton and wool and feature exquisite handcrafted detailing that is sure to put everyone in the Christmas spirit. You can have each stocking custom embroidered with your loved one's name or nickname that include up to 9 characters, and choose a unique design for every member of your family. Choices include Santa, angel, reindeer, snowman, cardinal, candy cane, Christmas tree or nutcracker.
On the lighter side, these Knit Long John Personalized Stockings are sure to bring twice the fun this Christmas. These adorable stockings look just like the back side of a real pair of long johns, and they are certain to become a humorous conversation starter at your next holiday party. You can choose between three different sizes, and have them personalized for everyone in your family with each name or nickname containing up to 9 characters. You can even order a specially made long john stocking made for your pet.
Creative Commons Attribution: Permission is granted to repost this article in its entirety with credit to ChristmasGifts.com and a clickable link back to this page.