Have a One of a Kind Christmas with these Unique Gifts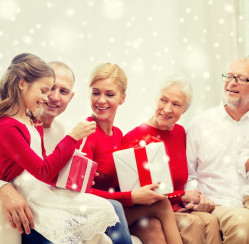 If you're tired of dashing through the snow filled sidewalks, dealing with frustrated store clerks and crowds of hurried shoppers, and spending hours of your precious holiday season searching for the best unique Christmas gifts, only to end up empty handed- or worse yet; having to lug heavy shopping bags all over the mall, you have come to the right place. Here at ChristmasGifts.com, the Creative Christmas Elf has struck again! Check out these out of the ordinary gifts and have a one of a kind Christmas your whole family will love.
BOCAS Baby Safety Nail Clipper
The perfect practical gift for parents with little ones, these baby nail clippers feature an ergonomic design, a 360˚ rotating blade, and a protective cutting hole and finger saddle to make clipping baby's nails safe and comfortable.
$19.80
Joo Design, Table Cushion, Wood Top
One of the best unique Christmas gifts for almost anyone on your list, this wood topped cushioned table makes using a laptop, working on homework and creating crafts more comfortable and fun.
$45
Dum Design Mobile Device Accessory iWing
Add a bit of character to your loved ones' charging cables this Christmas with this creative cable cap. Choose from angel wings or bat wings and let the fun of Christmas take flight.
$8.82
This stylish iPhone6 case will create a fashion statement your friends and family will never forget. Not only will it help protect their iPhone6, it has space to keep their cash and bank cards safe as well. Choose from gold or silver.
$49.99
This beautiful necklace is one of the best unique Christmas gifts we could find for ladies who appreciate the finer things in life.
$158.40
Three dazzling crystal pearls elegantly arranged along a sparkling gold plated loop make this set of earrings an exquisite addition to any wardrobe.
$128.70
Shimmering with genuine 14kt gold, this leather backpack is certain to make her heart shine this holiday season.
$532.80
ImaginistWikey Multi-Purpose Smartphone Stand
That gadget lover on your list will stand out from the crowd with this unique and versatile accessory. Use it to hold smartphones, hang jewelry from, and more.
$8.99
This creative phone stand is an excellent way to bring a little fun to your office celebration this holiday season.
$13.50
Mijinmilsil's Double Layer Tea Cup
Make teatime extra special during these cold winter months with this uncommon tea cup. The Asian art decoration and unique sculpted inner handle make this cup one of our best unique Christmas gifts ever.
$72.00
Noetizen's Personal Humidifier Fog Ring
This innovative fog ring is certain to give your loved one the relaxation and aroma therapy she needs after a busy holiday season.
$31.50
Bring a little fun, flare and functionality  to your loved one's next travel adventure with this signature tote by Youkshimwon.
$178.20
Do you enjoy giving unique gifts during Christmas? What are the most unique gifts you have ever received?
Creative Commons Attribution: Permission is granted to repost this article in its entirety with credit to ChristmasGifts.com and a clickable link back to this page.