Festively Fit: Health and Fitness Christmas Gifts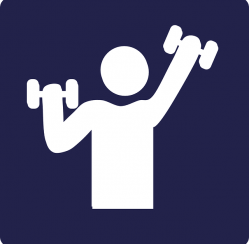 Do you have a health or fitness fanatic on your Christmas shopping list? Don't get discouraged about what to get them this holiday season. Health and fitness has been all the rage for many people for quite a while now, and there are numerous wonderful Christmas gifts that go along with the trend. Besides, who do you know that doesn't want to better themselves for the coming new year?
While we certainly don't want to imply that our loved ones have put on a few pounds, or that they don't look healthy lately, let's face it; their health is important to us and we want to do everything we can to ensure that they remain with us for many Christmases to come. Health & fitness Christmas gifts can be the perfect solution!
With such a wide variety of health and fitness related items available to consumers these days, shopping for health & fitness Christmas gifts can be quite intimidating. In order to make your shopping adventure a little less confusing, I took it upon myself to go to the health and fitness Christmas expert himself; Brawny the Elf. I have to admit, in the beginning I was a little intimidated myself, but after reviewing some of his wonderful ideas for health & fitness Christmas gifts, even I am ready to get my groove on!
Ideas for Health & Fitness Christmas Gifts to Help Your Loved Ones Get Festively Fit and Stay Healthy
Give your loved ones the tools that they need to get the job done this holiday season. Consider items like
the Heavyhands Weights 1-2 lb. Combopac or the Savasa Eco Pilates Mat with Fitness DVD, and your loved ones will be working up a sweat in no time,
Feed your loved one's brain with healthy knowledge when you purchase things like Integral Yoga The Fat Flush Plan Book, Integral Yoga Encyclopedia of Nutritional Supplements, or Integral Yoga Prescription for Nutritional Healing hardback books.
Inspire the emotional and spiritual health of your loved ones with things like the Year of Wishes Candles that offer words of encouragement for every month of the coming new year, USB Computer Mini Himalayan Salt Lamps that plug into a computer's USB port and not only remove harmful electromagnetic emissions from the air, but provide beautiful serene lighting to soothe the soul, or a relaxing spa gift certificate that includes a massage or beauty treatment.
All this talk about health and fitness is probably making your loved ones hungry. Think outside of the box with a healthy fresh fruit gift basket or consider a fruit selection of the month club membership in place of unhealthy Christmas treats.
A good night's sleep is one of the most important aspects of health and fitness. Purchase items like the Snoozer Full Body Pillow, a Light Affection Personalized Photo Nightlight or a relaxing Lavender Bath and Body Basket, and help them get a good night's rest.
Is health and fitness a part of your new year's resolution for the upcoming year? How do your plan to obtain or maintain your health and fitness?
Creative Commons Attribution: Permission is granted to repost this article in its entirety with credit to ChristmasGifts.com and a clickable link back to this page.