Deck the Halls and Just About Everything Else with These Decorating Ideas!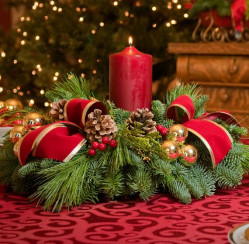 There is nothing like decorating your home for the holidays to put you in the Christmas spirit! Although it's nice to maintain some of your old Christmas decorations for sentimental reasons, the same old thing year after year can bring the Grinch out. Spice up your tiresome decor with these unique Christmas decorating ideas!
Creating Your Winter Wonderland
Create your own wonderland this Christmas by decorating around a theme! Themes can be based upon just about anything you choose. Some Christmas decorating ideas that can make your wonderland magical include:
Base your decorations on one or two colors. That traditional red and green doesn't necessarily have to remain a part of your decor anymore. By using decorations that are only one or two colors, you remove some of the busyness as well. Blue and silver, purple and gold, or just about any festive color combination you choose can draw your decorations together and create just the feel you're looking for.
Old Fashioned style Christmas decorations can be an excellent choice. Use items like metal pails, lanterns, real pine and evergreen branches, Spanish moss, pine cones, candles, cranberries, quilts, pillows, plants, and more to make homemade decorations.
A bright and cheerful Christmas theme might be just the thing to bring out the child in everyone this Christmas! Base your decorations around holiday characters, cartoon characters, or even objects like trains, reindeer, or jingle bells for a unique touch.
Light things up! Use multiple sets of Christmas lights, candles, and shiny or glittery ornaments to make this season sparkle!
Do it Yourself Christmas Decorating Ideas
There is just something to be said about a good old homemade Christmas! If you've got the time, and really want to get into the spirit this year, gather up the elves and make this a homemade Christmas to remember!
Get your sleigh in gear and head on over to your local antique shop, thrift store, or hobby/ crafts store for some inexpensive items that can make magnificent Christmas decorations. Purchase things like wicker baskets, ribbons of various colors, greenery, Christmas tins, festive fabric, fancy glasses, jars, candles, cranberries, popcorn, etc.
Leave your tracks in the snow and take yourself outside for some FREE decorating materials like pine cones, tree branches of all sorts, leaves, rocks, etc.
Mix 'em in the kitchen! Use old canning jars, and fill them with baking goods  to make homemade mixes like flour, cinnamon, nuts, chocolate chips, and marshmallows. Replace the lid and tie colorful ribbons around them. Place these around your home throughout the holidays, and then give them as gifts on Christmas!
Cover old throw pillows with festive material! Cut fabric into a square about 6 in. larger than your pillow. Place the pillow diagonally on top of the fabric, and pull the edges of the fabric together (two sides at a time) and tie into knots. When Christmas is over, simply remove the fabric!
Use old ornaments to fill glasses, jars, and other glass containers. Add a few pine cones if you wish to complete the look.
Use an old silver or gold serving tray to make your centerpiece. Arrange rocks, tree branches, candles, and ornaments for a unique look.
If you know of more creative ways to deck the halls, we would love to hear about them!
Creative Commons Attribution: Permission is granted to repost this article in its entirety with credit to ChristmasGifts.com and a clickable link back to this page.