ChristmasGifts.com Gift Wrap Storage Bag Organizer Contest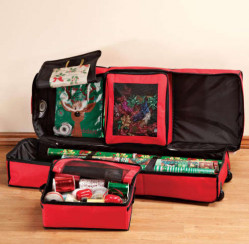 It is time for another Christmas giveaway from ChristmasGifts.com! Hopefully, you've started shopping and gathering your Christmas presents, and have them tucked away and hidden from sneaky eyes of little children. Well, we're here to help you wrap those presents with a giveaway! One lucky winner can receive this handy gift wrap storage bag organizer with wheels from Miles Kimball. If selected, you will be lucky enough to win a one-stop storage spot for everything you need to wrap your gifts this year, normally retailing at $45.99, but you'll snag it for free! See the contest instructions below to learn how to win!
Miles Kimball has been offering the best nostalgic Christmas gifts and decorations since 1935, and this gift wrap storage bag organizer with wheels is no exception when it comes to their high quality products. It comes with one large main compartment to store your wrapping paper, with removable compartments where you can keep your bows, ribbons, tape, scissors, name tags, and anything else you might need. It is made of durable canvas, with a handle and wheels for easy access when you need to wrap gifts, and it makes it easy to tuck away when you're finished. Keep reading to find out how to win!
Here Is How to Win:
Follow us on Twitter at https://twitter.com/ChristmasGiftsR. Our Twitter handle is @ChristmasGiftsR.
Go to our website ChristmasGifts.com and find a product you like.
Click on the product and find the Twitter symbol (located next to the image) and share the product on Twitter. Or if you like, you can share it on Facebook by clicking on the Facebook symbol which is next to the product.
That is it! You're entered! Maximum of 5 entries per person.
Additional Rules
Contest is open to residents of the United States only.
You must have a valid email address.
Last day to enter is December 13th, 2017 at 11:59 PM EST
Winner will be drawn at random.