Chocolate Christmas Gift Baskets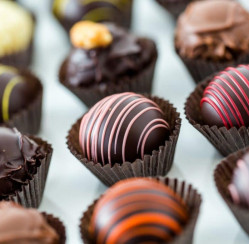 There is something about chocolate that makes it the perfect gift for almost any occasion. Whether you are celebrating a happy moment like the birth of a child or an anniversary, experiencing hard times and need a little cheering up or need to say you are sorry, or you are looking for chocolate Christmas gift baskets for friends, family or coworkers, chocolate is an excellent solution. Maybe that's why I find myself recommending chocolate gift baskets to all of my family and friends whenever they ask about gift suggestions for their hard to buy for loved ones.
If you are considering purchasing chocolate gifts for your loved ones this year, forget heading over to your local five and dime and settling for those sparsely filled baskets that contain a few off-brand chocolates for a price that could break your wallet. ChristmasGifts.com offers a wide variety of chocolate gifts and gift baskets that are filled to the brim with mouthwatering gourmet treats, and during the holiday season chocolate Christmas gift baskets continue to be a favorite solution for many of our especially selective gifters.
Chocolate Christmas Gift Baskets for the Office
Are you searching for a gift that is perfect for your holiday celebration at the office? Do you need to purchase something for the boss or that special coworker? Here are a few of our favorite chocolate gift baskets that are certain to impress.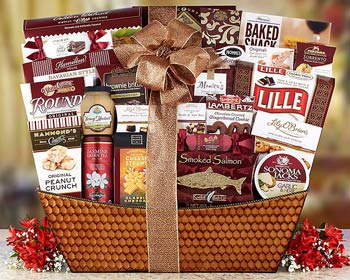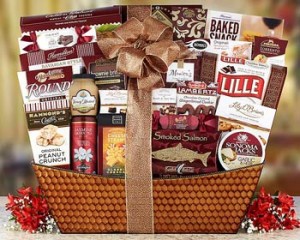 The Ultimate Appreciation Basket is an excellent option for this year's holiday party. It is graciously filled with an abundance of chocolate treats and even includes a wide variety of crackers, pretzels and other snacks for those who aren't chocolate lovers (yes, people like that exist).
Overflowing with a plethora of gourmet chocolate treats and sprinkled with things like cheese straws, almonds, and Monterey jack cheese, the Corporate Gratitude Gift Basket is sure to please even the pickiest person on your list.
If you are searching for a gift basket that demonstrates excellence, the Executive Gift Basket is just what you need. Containing unique items like

Capelin

caviar and smoked salmon, yet still stuffed with luscious chocolate goodies, there is something for everyone in the Executive Gift Basket.
Chocolate Christmas Gift Baskets for Loved Ones Far Away
If you have friends or family members who live far away, you know how important it can be to close the miles with a special gift. Check out these wonderful chocolate gifts and gift baskets that are sure to bring them home at heart.
The Godiva® Chocolate Gift Basket is perfect for those

chocoholics

in your life who appreciate quality and flavor. An assortment of Godiva chocolate treats and a decorative candy dish make this basket especially unique.
If you are searching for something a little bit different this holiday season, the Full Dozen Gourmet Dipped Premium Strawberries gift is the ultimate solution. These glorious strawberries are so tantalizing you might even decide to order some for yourself.
Have you ever purchased a Christmas gift basket from your local big box store? Did you notice how impersonal those types of gifts seemed to be? Tell us about your experience and be sure to check out the abundance of gift baskets available at ChristmasGifts.com.
Creative Commons Attribution: Permission is granted to repost this article in its entirety with credit to ChristmasGifts.com and a clickable link back to this page.