Bringing Christmas Gifts to a Christmas Visit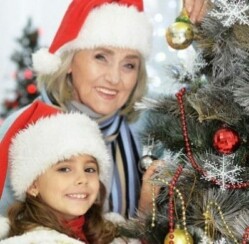 It is understandable that some people find visiting the elderly in nursing homes uncomfortable. The clinical atmosphere does make some people uneasy. However, loved ones and lonely strangers still deserve a little Christmas cheer. If you know someone living in a nursing home or assisted living facility, these Christmas visit tips will help you share meaningful Christmas gifts this year.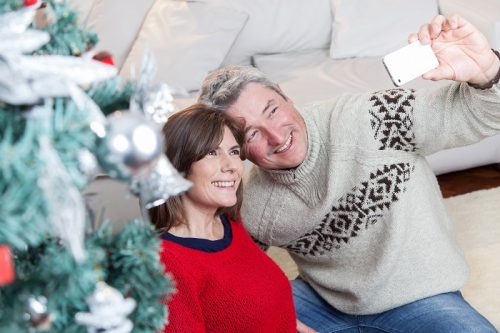 Plan Your Visit Before You Go
You don't have to know somebody to visit a nursing home or assisted living center, but you should work with the nursing staff. Some residents don't have a family, and your smiling face may be the only Christmas visit they get this year. Nurses know who gets visitors and who doesn't. Most facilities have programs for volunteers who enjoy meeting the elderly. You could organize a much-appreciated church group visit or some other gesture like a group Christmas craft project.
Call the facility before you make any plans.  Just ask the facility if they have a program in place or if there is a need you could fill. While you're at it, ask about the facility's visiting hours and gift policies. Also, ask about pet policies, animal lovers might enjoy a visit from a good natured dog or cat.
Collect Small Christmas Gifts
After you talk to the facility, begin collecting donations, small gifts, or Christmas decorations. The facility can help you get an idea of what their residents appreciate. Every nursing home or assisted living center is its own community. Each facility is different and treasured gifts at one, may be unnecessary at another.
So do your homework ahead of time. If you plan to distribute Christmas cards or small gifts, then start planning things at least a couple months beforehand.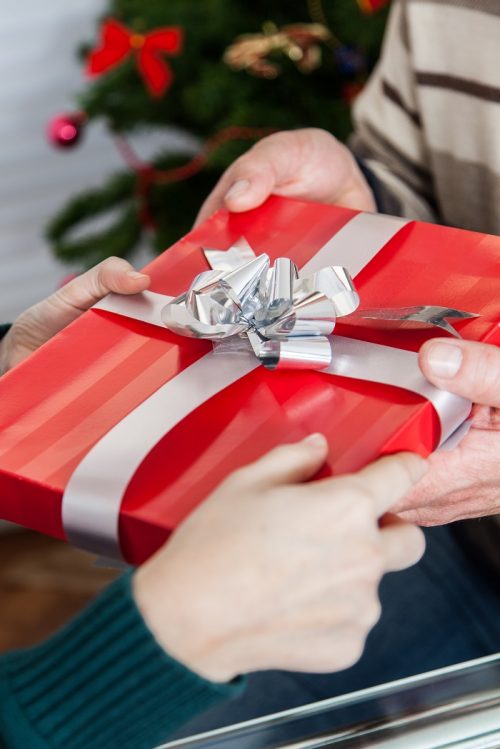 What Sort of Christmas Gifts Should You Bring?
Small gifts are more important than you realize. There are some cute and useful gift ideas. Some suggestions are:
Hand Lotions (try to find unscented if possible.)
Walker Caddies (a cloth slipcover with pockets for small useful items.)
Lap Quilts
Cute Labeled Hand Sanitizer (use a little creativity and humor on this one.)
Flowers (check with the nursing staff first.)
Playing Cards, Dominos, and Jigsaw Puzzles
Books (try to find big print copies.)
Flashlights (this could be handy!)
Candy Gifts (ask the nurses first.)
Traditional Christmas Stockings (a stocking can include any combination of these small gifts.)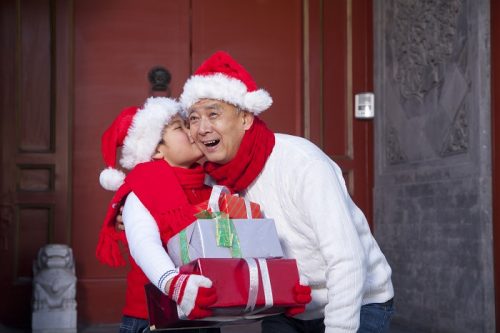 How to Conduct a Christmas Visit
Once the day of your visit arrives, make sure you are ready. Dress nicely and remember to be polite, you are visiting someone's home after all. Offer your gifts personally if you are allowed to and maybe get involved with a social activity. You might be able to help gather up a crowd for the activities director, but don't do anything you haven't been asked to do. Remember, you are a guest.
Everyone deserves a merry Christmas, and you might be able to bring some Christmas cheer to your local nursing homes and assisted living facilities. So reach out to the elderly this Christmas, it will be greatly appreciated.
Creative Commons Attribution: Permission is granted to repost this article in its entirety with credit to 
ChristmasGifts.com
 and a clickable link back to this page.