Absolutely Amazing Christmas Baskets For Men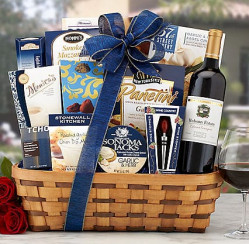 Baby it's cold outside! Don't go away in the manger to find that perfect Christmas gift for the special man in your life this holiday season. Snuggle up right with a few of your favorite Christmas cookies and relax. You've got this one covered.
Let's face it. What is better than one absolutely amazing Christmas gift? A collection of Christmas gifts all wrapped into one, of course! Mrs. Claus herself would be proud of the unique ideas Santa Claus's helpers have come up with when it comes to extraordinary gift baskets for men.
For the Sports fan
Forget the bows and fancy wicker baskets this holiday season! Create a gift "crate" full of your man's favorite things. Include items like personalized golf balls and a membership at the local green for a hole in one every time, fishing lures, sinks, and a fishing license for that wonderful catch in your life, ammo and hunting supplies for your one-shot wonder, or hit a home run with baseball memorabilia, a custom mitt, and a pass to the batting cages.
Purchase a gift "basket" full of snacks and goodies, and tickets to a favorite sporting event to create a gift he will never forget.
For the Beer Lover
Purchase a beer making kit and personalized beer mugs to create unique gift baskets for men. Include an assortment of beer making ingredients and a few distinct brews that he can enjoy while he waits.
A beer of the month club membership will be one gift that he is certain to never forget. Watch his excitement as unique new brews are delivered to his door month after month. Add custom made beer mugs, some beef jerky, and a couple of bottles of premium beer to make this a gift basket he will never forget.
For the Executive
Order a commercially prepared gift basket that is filled with his favorite gourmet treats for a classic gift.
Purchase items like personalized ink pens, personalized paperweights, custom photograph frames, and other desk accessories and arrange them in a container to create a unique gift basket for his office. You might add a personalized brief case for a unique touch as well.
For the Handyman
Buy a tool bag or small tool box and fill it with an assortment of unique tools and gadgets for a gift basket that is completely one of a kind. You might include a few personalized tools for a finishing touch.
Collect unique handyman guides. Include books and magazines that offer tips and tricks of the trade as well as inspiring ideas.
For the Gamer
Arrange items like video games, controllers, and other gaming accessories in a gift container. Add a few snacks as well; after all those gamers can work up quite the appetite!
If your man likes more traditional games, consider making gift baskets with items like custom made darts, score pads, pool-sticks and pool-table accessories, or other items that might compliment his man cave.
Whether you choose to order one of the many commercially prepared gift baskets for men that are available on the market, or you decide to purchase unique items for a one of a kind gift basket, there is something for everyone in the world of gift baskets.
Share your unique ideas for gift baskets for men here!
Creative Commons Attribution: Permission is granted to repost this article in its entirety with credit to ChristmasGifts.com and a clickable link back to this page.