2015 Christmas Gifts for Friends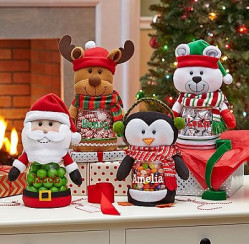 When the weather outside is frightful, shopping for the best 2015 Christmas gifts for friends is not so delightful. According to national weather sources, these warmer temperatures that many of us have been experiencing are about to surrender to much colder, wintery weather beginning this evening. If you have all of your Christmas shopping finished for the 2015 season, you might not mind the chill in the air much at all. If you still have a few friends and other loved ones to shop for, however, the impending weather can be dreadful news. Now before you go getting your stockings in a knot, grab a mug of that freshly brewed coffee and don't forget to add a bit of Christmas creamer, and then snuggle up and let your worries go. You won't have to brave the winter wind, take your chances on icy sidewalks, or slip-slide your way to the store downtown to finish up your Christmas shopping this year! We have an abundance of specialty gifts, gift baskets, and even last minute gifts to choose from. As usual, ChristmasGifts.com won't leave you out in the cold!
Your 2015 Christmas Gifts for Friends are Right Here!
Get personal this holiday season with customized gifts that are certain to warm your friend's soul! Although Christmas is just a few days away, it isn't too late to have one of a kind gifts made especially for all of the friends on your list. With everything from personalized coffee mugs, beer glasses, jewelry home décor and much more, you are certain to find the gifts you need. If you are really in a rush, be sure to check out the personalized magazine covers from Your Cover. You custom create these unique gifts, and if you choose, you can even print them up from your home computer to create an instant gift at the last minute.
Speaking of last minute Christmas gifts, have you thought about gift baskets for you friends this year? There are tons of varieties to choose from, and since you can have a gift basket sent directly to your loved one's home or office, they are an excellent solution when you are short on time.
An alternative to gift baskets, monthly gift clubs are a wonderful idea when it comes to the most creative 2015 Christmas gifts for friends. Choose from things like bath and body products, gourmet treats, wine and beer, and even pizza, and have your gift shipped throughout the year. You can choose to have these gifts sent for as long as you like so your friends will always know how much you care.
If you just don't have it in your to shop anymore this Christmas, you might decide to settle for a gift card or two, a personal check, or something of that nature. Present it in style with a unique gift card holder that doubles as a Christmas ornament!
Do you still have a lot of friends to shop for this year?
Creative Commons Attribution: Permission is granted to repost this article in its entirety with credit to ChristmasGifts.com and a clickable link back to this page.