10 Tips to Make Your Christmas Display Great!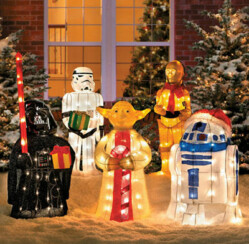 Christmas time is a time for neighbors to engage in a little friendly competition. Many neighborhoods take part in some form of Christmas displays. What are Christmas displays? Christmas Displays often feature lights, and sometimes, inflatable characters or even animated figures on or around your home.
These displays can be quite impressive, so impressive, in fact, that people come from far and wide just to drive or stroll down the street to take in the Christmas cheer. Neighborhoods hold competitions, and some feature pretty large prizes.
So, how do you create a wonderful Christmas display? Well, here are some tips to keep your display safe and fun for everyone.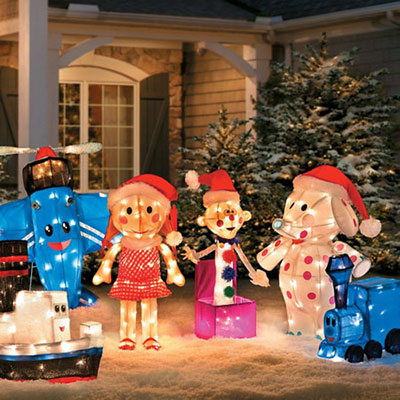 Tips for the Perfect Christmas Display
Make sure your equipment is in good shape;

this includes your ladder, your extension cord or cords, and even your lights. Strands of lights wear down over the years and old lights can be a fire hazard.

Don't Decorate Alone.

Always make sure you have someone with you when you hang lights, especially if you plan to go up on the roof. There should be someone to hold the ladder while you position the lights and someone to call for help if the worst should happen.

Decorate before freezing weather.

A house should be decorated ideally in late fall or early winter. That way, you're not slipping on black ice on your roof. Plus, you want to beat the icicles to get the best lighting effect.


Use outdoor approved cords and lights.

You want to make sure that your extension cords and lights are really made for the outdoors. Your lights should be waterproof and C7, C9, or miniature bulbs should be used. A C7 or C9 bulb will give your display an old fashioned look, but miniature bulbs will save you in energy.

Always use a grounded power source.

You can have a GFCI (gravity fault circuit interrupter) installed by a professional or buy a portable outdoor unit.

Test the strands of lights first.

Always plug in the lights to check for broken lights before you take them outside.

Use clips to secure the lights to gutters, roof lines, and railings.

Clips are safer than nails or staples.
Use electrical tape, 

use

it on the roof so not to cause any damage. Also, use electrical tape to keep cords in place on walkways.

Don't Overdo It.

Everybody remembers that scene from the movie, National Lampoon's Christmas Vacation. Find your inspiration somewhere else.

Measure how much you're going to need.

Make sure you know how many feet of lights it will take to line your eaves. A good guideline is 100 lights for every 1 ½ feet.
Christmas displays bring out the kid in all of us.  It is a beautiful tradition that has been bringing neighborhoods together for generations. If you are interested in trying your hand at it this Christmas, make sure you follow these tips for a safe time.
Creative Commons Attribution: Permission is granted to repost this article in its entirety with credit to ChristmasGifts.com and a clickable link back to this page.