What is Going on at Santa's Workshop this Spring?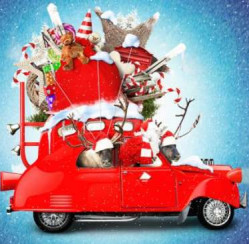 Santa's Workshop is in the spotlight during the holiday months. The elves are busy making and preparing millions of Christmas gifts to deliver all over the world. The reindeer are resting up for their magnificent holiday journey. Santa is making his list and checking it twice to ensure that no "nice" kids get overlooked on the big day. And of course Mrs. Claus is making lots of Christmas cookies and cocoa and preparing fabulous feasts to keep everyone nourished before the big trip. But have you ever wondered what goes on at Santa's place during the rest of the year? We decided to sneak on over and find out!
Springtime At Santa's Workshop
There is always something exciting going on at the Claus residence! Let's see what everybody is up to this April.

Rudolph and Crew
After taking a couple of months off to relax and recuperate, Rudolph and the rest of the reindeer are getting in shape for Christmas 2017! They are busy participating in competitive reindeer games, brushing up on their magical flying talents, and learning about newer, safer ways to land. Rumor has it that Rudolph is scheduled for a nose job in the coming months and this Christmas Eve will be brighter than ever!

Santa's Elves
While it's true that Santa's Elves design and make lots and lots of Christmas gifts in preparation for the big day, they have come to appreciate modern conveniences like the internet, and they're taking full advantage this year! A quick look into the research room reveals hundreds of elves with laptops and tablets who are focused on finding the most unique online Christmas gifts for the upcoming season. Next week, the elves are planning a trip to the beach to soak up some sunshine while they have the chance.

Santa and Mrs. Claus
While we're sure you'd love to hear about this magnificent couple out skydiving, mountain climbing or taking on some other exciting challenge, we're guessing that will have to wait for next time. When we approached their front door to see what they were up to, we were encountered by a simple, handwritten note that said "Gone Fishin"!
Would you like to hear more about Santa's Workshop throughout the year?
Creative Commons Attribution: Permission is granted to repost this article in its entirety with credit to 
ChristmasGifts.com
 and a clickable link back to this page.