Popular Christmas Wreath Trends in 2016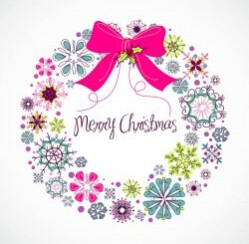 2016 Christmas Wreath trends are all about showcasing creativity. A wreath is normally the first piece of Christmas decor your guests see when they arrive. The holiday wreath has become the symbol of a warm welcome. The traditional places to hang wreaths are on the front door or in your entryway.
Christmas wreath trends this year have embraced one of two decor choices, the retro Christmas and the rustic Christmas. To better explain, the retro trend is combining retro Christmas prints and vintage ornaments with the common colors you'll see this Christmas; pink, purple, and teal. The rustic trend is featuring a lot of plaid and burlap, as well as, sliced wood, glass mason jars, and galvanized steel buckets.
Whichever camp you fall into, these are some clever and cool design trends for Christmas wreaths.
Christmas Wreath Trend 1: Using Recycled Materials
Both the rustic and the retro trend have latched on to the idea of using found objects. These wreaths are DIY projects. Recycled material wreaths are created with; a foam wreath base, a hot glue gun, and the item that will cover the wreath. Most of these designs are meant for indoor display only.
Some common items being used for recycled material Christmas wreaths this year are:
Folded Origami Shapes
Paper Drinking Straws
Old Greeting Cards
Wood Slices
Pinecones
Vintage/Retro Christmas Ornaments
Other items like wine corks and bottle brush trees are also being used to make wreaths. This trend is about exploring your own creativity and creating a conversation piece. Everybody appreciates a great DIY project!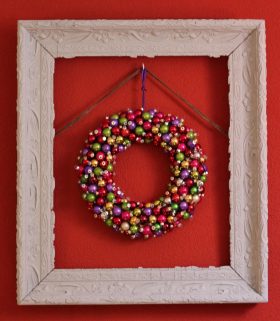 Christmas Wreath Trend 2: The Square Wreath
A Christmas wreath doesn't have to be round anymore. A new trend is to create a frame out of small branches and hang a festive bauble in the middle with ribbon. The non-rustic take on this is simply using a large picture frame without the back or glass.
You can hang mistletoe from the ribbon or use a wooden holiday greeting plaque. The result is a very cool, non-conformist, Christmas wreath.
Christmas Wreath Trend 3: Monograms and Initials
A lot of Christmas decor this season is going to feature personalization. One of the ways this trend has surfaced in Christmas wreaths is monograms or initials. The initial is sometimes added to a corner of the wreath, or in the case of a square wreath, it is hung in the middle.
Adding a monogram initial to your Christmas decor is a classy touch that you'll be seeing a lot of this year.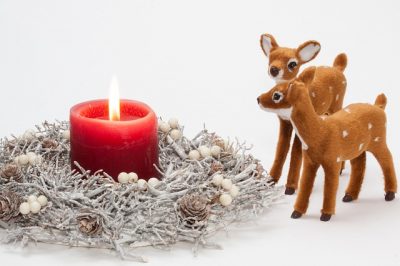 Expressing Your Tastes
The bottom line is a Christmas wreath is a way to show your guests you welcome them into your home. These 3 trends are all ways to do that in a fun and classy way. Whether you like to create your own holiday decor or not, there are plenty of quirky and creative ways to bring some holiday cheer into your home.
Which of these Christmas Wreath trends really interests you? Do you think you'll use it in your own home this year?
Creative Commons Attribution: Permission is granted to repost this article in its entirety with credit to ChristmasGifts.com and a clickable link back to this page.