One of a Kind Christmas Garlands Are Unique Housewarming Gifts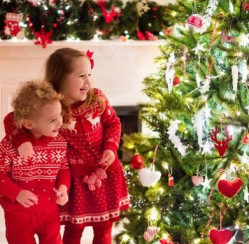 A Christmas tree is a fun and heartwarming tradition that brings families together. Many Christmas decorations make a Christmas tree a focal point of a festive front room. Dramatic additions to any tree are the Christmas garlands. If you are tired of drop tinsel or are looking for a one-of-a-kind garland option this year, we've got some ideas.
These unique Christmas decorations are fun craft projects for kids and unique housewarming Christmas gifts for a friend who has moved just in time for the holiday. Before you begin one of these cute Christmas tree garland projects, ask yourself a couple of questions.
Where do you plan to hang your one-of-a-kind garland?
Does the garland fit in with a broad range of Christmas Decorations?
The best places to hang a Christmas garland are on banisters, over mantles, and of course on the Christmas tree. Some garlands look great anywhere, and some are only pretty on a tree.
Giving Christmas garlands as a unique housewarming Christmas gift affects which garland you want to give. If you know the person you are gifting the garland to (like your college bound daughter), then you can personalize it. However, if you just want to offer a festive housewarming gift for the new neighbor, there are ideal garland choices that fit into any Christmas display.
One-of-a-Kind Christmas Garland #1 — Ornament Garlands
This impressive Christmas decoration is classy and versatile. The trick is to choose a color scheme that practically screams Christmas! Ornament garlands are thin ribbon threaded with glass Christmas tree ornaments. Classic Christmas combinations are red and white, blue and white, and of course, green and red.

An ornament garland is full and flexible. Just thread simple glass ornaments onto a thin ribbon with the ornaments paired together in a row. It does away with the need to hang traditional ornaments on a Christmas tree, and it is an eye-catching addition over a doorway.
One-of-a-Kind Christmas Garland #2 — Wine Corks and Beads
Another creative Christmas garland is wine corks and beads. You can really have fun with this unique housewarming gift! Thread wine corks onto a string (tip: use waxed dental floss) with large wooden or glass beads. The garland is beautiful and a great conversation piece.
One-of-a-Kind Christmas Garland #3 — Edible Garlands
Of course, go-to-Christmas gifts usually involve food. Christmas tree garlands are no different. Old fashion Christmas garlands can be quaint and heartwarming unique art Christmas gifts.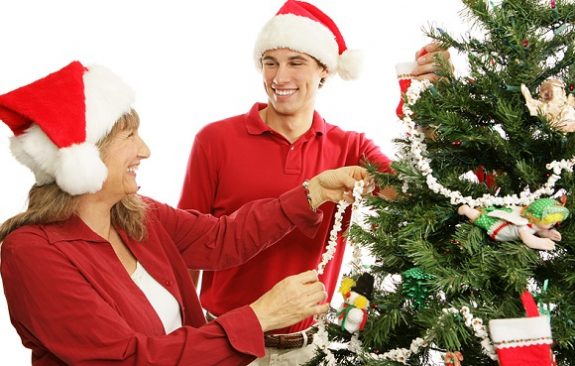 Examples of a traditional and edible garland are:
Popcorn and Cranberries
Candy (jelly beans, taffy, wrapped candies)
Lemon, Orange, and Lime Slices
Christmas Cookies
Now edible garlands are only good for one Christmas, but the time and thought that go into them make them memorable Christmas gifts. Only give an edible garland when it is fresh. If you wait, the gift will be gross and unattractive.
Cut Christmas Cookies can be given as a Christmas garland when you stamp out the dough. Instead of stamping the cookies out and threading them on floss after the baking, punch two holes in the middle and bake. Then the cookies can be slide onto a festive Christmas ribbon.
You can also create the "illusion" of an edible garland with baked polymer clay. The threading technique is still the same, though. You will need waxed dental floss, a needle, and a pair of scissors. You'll need that for any "threaded" garland.
One-of-a-Kind Christmas Garlands are a Work of Art!
A Christmas garland is a creative and nostalgic Christmas gift idea. With a little bit of planning and craftiness, you can give your loved ones and friends unique housewarming Christmas gifts and equally unique art Christmas gifts. All you need is a cute idea and a pair of busy hands.
Creative Commons Attribution: Permission is granted to repost this article in its entirety with credit to 
ChristmasGifts.com
 and a clickable link back to this page.