How to Wrap Christmas Gifts Like a Pro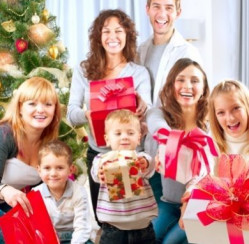 Chances are, if you don't already know how to wrap Christmas gifts like a pro the mere thought of gift wrapping can seem pretty intimidating. That majestic pile of presents isn't going to wrap itself, though! And unless you have a little Christmas gift wrapping fairy hiding in your home, or you've forked out the extra dough to have your gifts professionally wrapped, you're either going to end up with really funny looking gifts or you're going to need to wrap things up right. Fortunately, Mrs. Claus herself has given us a few pointers so we could create the ultimate gift wrapping guide to help you out.
Supplies for Wrapping Christmas Gifts Like a Pro
Before you get started, it's important to have all of your supplies ready for your gift wrapping adventure. Here is what you're going to need.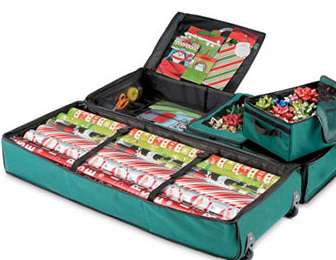 Wrapping Paper: You can choose traditional wrapping paper if you'd like. There are other great gift wrapping solutions, however, if you're on a budget or want to be more creative. Although kids don't typically pay much attention to gift wrapping, they usually get a kick out of newspaper comics. Other ideas include leftover paper sacks, tin foil, or even fabric scraps.

Scissors:

Regular sharp scissors will work just fine. If you're feeling a little more creative though, grab those scrapbooking scissors instead!

Tape or glue sticks:

Although clear wrapping tape is typically gift wrapper's first choice, packing tape and glue sticks or other types of glue work well sometimes too.

Bows or Ribbons:

If you truly want your Christmas gifts to look like they were wrapped by a pro, be sure you have pretty bows or ribbons on hand. Choose colors or patterns that match the wrapping material

Name Tags:

Don't forget to buy plenty of name tags and have a pen or marker ready.
Wrap Rectangular Christmas Gifts Like a Pro
Rectangular shaped Christmas gifts are probably the easiest to wrap. And if you have unique gifts or oddly shaped items, you can always put them inside a gift box before you begin.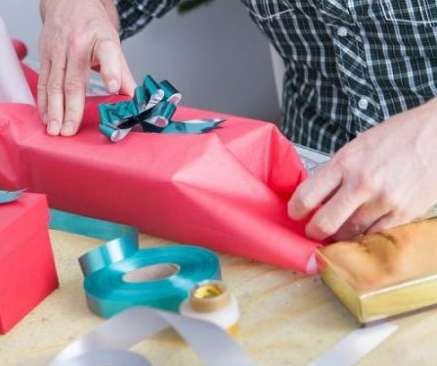 Measure your wrapping paper or other material. Place your gift on top of the wrapping paper and fold the cut end of the paper to be sure it reaches about half-way across the package. Now do the same with the rolled end, only cut the paper at the necessary length.
Once your wrapping material is cut to size, tape one side at a time directly to the packaging.
Now that the sides are secured it's time to take care of the ends. Fold each end in one by one and tape. This will form two triangles. Fold each triangle over and tape or glue to secure.
Wrap decorative ribbon tightly around the entire package. You can even do this perpendicularly if you choose for an even more glamorous effect.
Now top it all off with a ready made bow, or create your own!
Add the name tag. Some name tags have a sticky side, while others need to be tied on or secured with tape.
How to Wrap Christmas Gifts That Are Oddly Shaped
Now that you have mastered the art of wrapping gift boxes and rectangular shaped Christmas gifts, it's time to move on to those presents that present more of a challenge. You know, those gifts with odd shapes and ridiculous packaging?  Don't worry, a nice cold glass of eggnog will help ease the pain!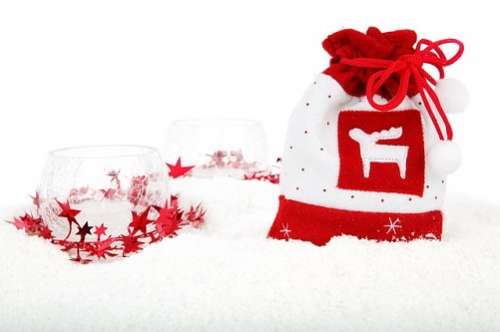 There are lots of great options to wrap Christmas gifts that have weird sizes and shapes. Here are a few of our favorites.
Gift Containers:

Some oddly shaped or small sized gifts can be placed inside an easy-to-wrap container before wrapping. Gift boxes, old shoe boxes, and recycled boxes from other items work great. Simply place the gift inside the container and wrap as you would any rectangular present.

Fabric Squares:

Do you remember all of those holiday tablecloths, ugly Christmas sweaters, t-shirts and other material you stuck back into storage over the years? It's time to put them all to use! Fabric is a fabulous solution for wrapping oddly shaped Christmas gifts because it tends to take the shape of almost anything. Just center your gift on top of the fabric. Now gather the fabric on top of the item and wrap it with ribbon

Gift Bags:

When all else fails gift baskets or bags can be your best friend. They are available in a wide variety of sizes and colors, and make wrapping Christmas gifts a cinch. Simply find a bag a little bit larger than your gift, place your item inside, then grab some colorful tissue to bunch up on top. You can even create DIY gift bags using plain paper sacks and a few craft supplies.
Wacky Ways to Wrap Christmas Gifts
Sometimes having a little fun with your gift wrapping adventures is more important than having gifts that look like they were wrapped by a pro. If you and your loved ones are up for a good laugh this Christmas, these wacky ways to wrap Christmas gifts won't let you down.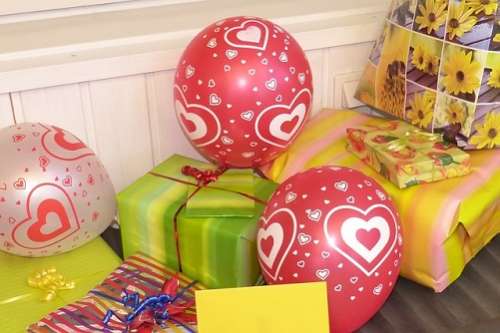 Balloons:

Balloons are a perfect way to disguise small Christmas gifts like cash. Roll up money and simply slide it into the balloon opening, inflate and tie a bow on!

Yarn:

Carefully wrap yarn around your gift until you end up with a giant yarn ball. Be sure to include a note with instructions for how to unravel the surprise!

Inside the Box:

Place a small Christmas gift inside a tiny box and wrap. Now place that box inside one that is slightly larger, and wrap that one too. Repeat until your last box is enormous.

Switch it Up:

Wrap off the wall gifts or gag gifts inside the packages left over from cellphones, tablets and other pricey items. Now wrap the pricey or more desired items inside things like old cereal boxes, coffee cans or other similar containers.
Do you know of gift wrapping tips or creative hacks that make wrapping Christmas gifts fun and simple? Share them in the comments below!
Creative Commons Attribution: Permission is granted to repost this article in its entirety with credit to ChristmasGifts.com and a clickable link back to this page.