Don't Let Christmas Sneak Up on You This Year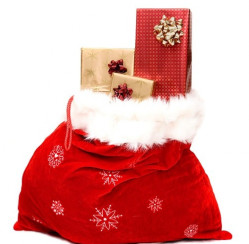 It's never too early to begin shopping for unique Christmas gifts. We understand that it may seem a bit soon to begin searching for unique Christmas gifts. If you're not careful, however, the Christmas holiday will sneak up on you and you could be left settling for last minute gifts from the local five and dime. After careful evaluation, lengthy discussions with the elves, and a recall of Christmases past, we have decided that there is no time like September to get prepared for the holiday season.
With the days beginning to shorten and cooler weather on the horizon it's easy to become distracted by the colorful leaves and relaxing breeze that accompany fall. Before you know it, we will all be gathering with family and friends to celebrate our favorite winter holiday by bringing gifts, well wishes and festive feasts to those we love. Make sure you are prepared this Christmas and start your holiday shopping today!
Finding Unique Christmas Gifts in September is a Cinch
From our experience, shopping for unique Christmas gifts is much easier when you start your search early. To optimize your gift-shopping experience, however, the elves have decided to help you out with a few tips created especially for early birds like you.
Unique Christmas Gifts for Couples
Finding unique Christmas gifts for your favorite couple just got a whole lot easier! Since you are beginning your search early in the season, the possibilities are endless. Consider personalized gifts like couples coffee mugs, photo frames, or other custom gifts for the home this year, or really impress them with a special getaway when you purchase an experience gift for your lovebirds.
Unique Gifts for Loved Ones Far Away
Just because your loved ones live far away doesn't mean they should have to settle for a simple Christmas card! Unique Christmas gifts like monthly gift clubs that feature fresh fruits, gourmet treats, or even fabulous dinners are simple to send and more affordable than you might think. If you aren't ready to commit to a monthly subscription, consider sending a festive gift basket instead.
Unique Gifts for Your Better Half
When you have that special someone in your life, it is even more important to begin shopping for unique Christmas gifts as early as possible. Doing so will give you plenty of time to find one of a kind items like personalized jewelry, custom created artwork, unique sentimental gifts, or even plan for a romantic weekend.
Creative Commons Attribution: Permission is granted to repost this article in its entirety with credit to ChristmasGifts.com and a clickable link back to this page.