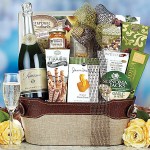 Ring In 2013 With Gift Baskets of Wine and Champagne
It's hard to believe the end of 2012 is almost here. The new year symbolizes a fresh start and leaving our regrets of the past year behind. Some of us will be celebrating with a quiet night at home, others will be stepping out for a hot night on the town with a large group of friends. New Year's Day is a huge holiday in the Russian culture and they tend to give gifts on that day as...
Gift Baskets For Those Hard-to-shop-for People
We all know that certain someone who is impossible to shop for around the holidays, or for any occasion. You know the type – they seem to have the nicest things, never drops subtle hints about what they want, and never complains about what they wish they had. As frustrating as it is buying for the hard-to-shop-for-person tends to be, consider gift baskets for your Christmas gift ideas...