Ring In 2013 With Gift Baskets of Wine and Champagne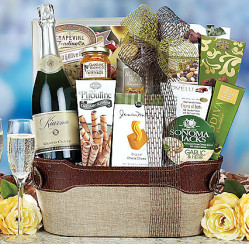 It's hard to believe the end of 2012 is almost here. The new year symbolizes a fresh start and leaving our regrets of the past year behind. Some of us will be celebrating with a quiet night at home, others will be stepping out for a hot night on the town with a large group of friends. New Year's Day is a huge holiday in the Russian culture and they tend to give gifts on that day as well. Whichever way you plan to celebrate, gift baskets are a fun way to enjoy the occasion.
Below are some suggestions to make your New Year's celebration extraordinary:
Gift Baskets With Wine Or Champagne
Gift baskets give you great flexibility for creativity. They take the guesswork of finding the right gift.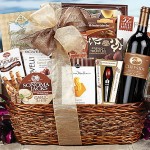 They can be combined with a lovely bottle of wine. Many times a gift basket is an original idea because it gives you a variety of goodies, that the recipient would rarely buy themselves. They can also be customized with a person's favorite things.
Wine and champagne gift baskets are excellent for bringing to parties or dinners. Even if they are not used that night, that person will always have a great memory of the celebration. Most gift baskets that include wine or champagne will start at $50. Others can be more elaborate and easily cost over $100. One of the most popular gift baskets on this website is the Cliffside Cabernet Bon Appetit Gift Basket (pictured left). It comes with a full-size bottle of cabernet wine and a wide variety of goodies that compliment it.
Another good choice that can be found is the warm wishes holiday basket (pictured right). It can be ordered as pictured, or you can add extra items, including wine or champagne for a more festive touch. Most gift baskets can be shipped directly to you so you'll have them in plenty of time to ring in the new year.