DIY Candy Gifts for Your Gift Exchanges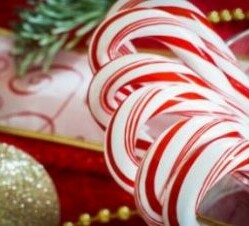 When you don't know what to give your coworkers or classmates for Christmas, consider the fact you can't go wrong with candy. Candy is something that almost everyone loves to receive.  These are some suggestions for creating a holiday gift with candy that will make your coworkers go "Wow!!" The ideas on this list are easy to put together and will make you look more crafty than you probably actually are.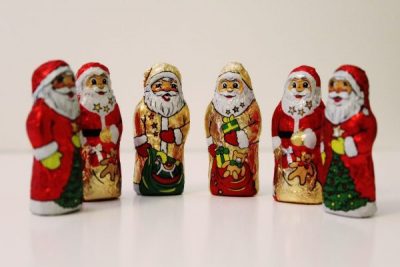 Candy Sleighs
A candy sleigh is an impressive Secret Santa gift. It is a great classroom treat for kids and stocking stuffer. To build a candy sleigh, you will need two Candy Canes, one regular size Kit Kat bar, about ten miniature candy bars, some ribbon (or curling ribbon), scotch tape, and a hot glue gun.
Begin your sleigh by gluing the candy canes to the bottom of the Kit Kat bar. Let the glue dry and set the Kit Kat face up, so the candy canes are the runners of the sleigh. Next, glue a row of miniature candy bars to the Kit Kat. Add another row with one less candy bar on the top (build a pyramid.) The typical pattern is; a row of four, followed by a row three, then two, and one on top of the pyramid.  However, you can add as many miniature bars as you want.
You can stack your sleigh as high as you want and some people add a chocolate foil wrapped Santa candy near the front of their sleigh. To finish off your sleigh, tie the ribbon around the candy like a gift box. Use the tape to keep the ribbon in place and top the sleigh with a gift bow. The trick to this gift is to make sure your glue is on the miniature bars' wrappers, not the candy itself. A dab on the wrapper will make it easier to take the sleigh apart.
People love seeing a candy sleigh; it is a festive, simple gift for anyone who enjoys candy.
Candy Cane Wreaths
Another use for candy canes is candy cane wreaths. The wreaths use about 24 candy canes. Use a drinking glass as a template for three cardboard circles, then cut out the circles.
Pair the candy canes together and tape the stalks together with the hooks facing out. Next, glue a set of candy canes by the stalks to one of the circles. Repeat this all around the circle, making sure the hooks butt up to each other. When you finish the circle, it will look a little like a snowflake.
Finish the wreath off with the remaining two circles glued together and hot glue the cover to the center of the wreath. To add a finishing touch, place a Christmas bow to the center, or glue a flat Christmas ornament in place.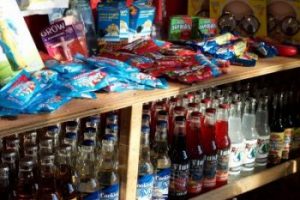 Candy Sodas
There are many versions of the candy soda. Some are very elaborate, and some are very simple. The easiest one reuses clean glass soda bottles. A recycled six-pack of root beer or some other glass bottled soda can be a cute Christmas gift.
Begin with an empty set of glass soda bottles. Wash the bottles and let them dry completely. Next, create some Christmas-themed labels.  An online search will give you some public domain images to use.
Then, fill the bottles with seasonal colored candies. Candies that are good for this project are individually wrapped licorice, candy sticks, peppermint balls, spearmint disks, and chocolate mints. If you don't mind giving unwrapped candy, there are lots of bulk candies that look cool inside of a glass soda bottle. Finally, cap off the bottle and set it in the six pack holder. The nice thing about this gift is you don't have to gift the whole 6-pack to one person; you can split it up among a team.
Present Your Candy Gifts
All of these candy gift selections are perfect for a gift exchange at work, Secret Santa exchange, or as a treat for your child's class. All the choices are striking and will impress anyone lucky enough to find one at their work station!
Creative Commons Attribution: Permission is granted to repost this article in its entirety with credit to 
ChristmasGifts.com
 and a clickable link back to this page.