Wondrous Christmas Gifts for Women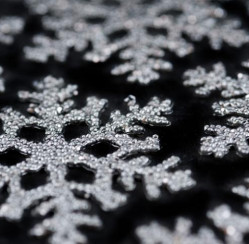 Christmastime is a magnificent time of year during which we gather together with our loved ones to create wonderful holiday memories and exchange gifts that demonstrate our love, friendship and appreciation for one another. That being said, Christmas is also a busy time of year during which we spend countless hours decorating our homes, preparing holiday treats, attending celebrations, and of course shopping for gifts.
It's very likely that most of the time spent preparing for Christmas is actually spent traveling through heavy traffic, battling our way through the congested crowds of frantic shoppers, and racking our brains for great gift ideas. For some reason it seems that shopping for Christmas gifts for women is the most challenging of all. It isn't that we don't want to give the women in our lives something wonderful; it's just that we often don't know where to begin.
If you are tired of settling for generic boxed gifts from the main aisle of your local discount store, and a new toaster just doesn't seem to fit the bill this Christmas, don't panic! It's time to kick off your shoes, relax, and get ready to find some of the most meaningful and unique Christmas gifts for women that you can imagine.
Christmasgifts.com has even put together a list of some of our favorites to help you get started.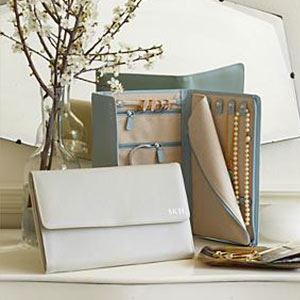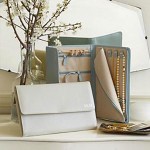 This exquisite Leather Jewelry Portfolio is an excellent choice when it comes to Christmas gifts for women who travel frequently, or those who need a convenient way to store their most precious jewelry. Crafted from the finest quality genuine leather, this unique portfolio is equipped with numerous creatively designed compartments and lined with tarnish-resistant LusterLoc faux suede lining to ensure all of her favorite pieces are kept organized and safe. It is available in ivory, light blue or pewter, and can even be personalized with up to three letters for a truly one of a kind gift.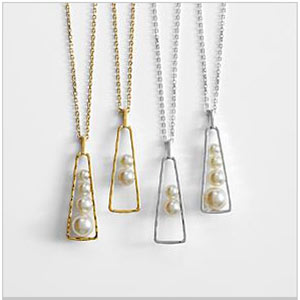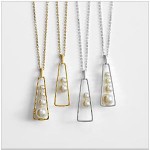 Present that special lady in your life with this beautiful Family Pearl Pendant Necklace this holiday season and watch her become delightfully dazzled. This elegant necklace is available in your choice of sterling silver or gold plated, and is uniquely designed to hold up to five glimmering pearls to represent her children or family members. The pendant measures approximately 1 ½ inches, and the gift includes a delicate 17 inch matching chain. The Family Pearl Pendant Necklace makes an excellent gift for wives, mothers, grandmothers and daughters alike this Christmas.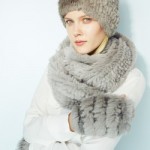 That wonderful lady in your life will absolutely adore being bundled in warmth this holiday season when you present her with these Genuine Rabbit Fur Fingerless Mittens. Crafted from genuine rabbit fur, these luxurious mittens are available in grey or black and white, so they are certain to match virtually any wardrobe, and the unique fingerless feature and thumb hole means operating her smartphone, tablet or other device while keeping her hands cozy is never a problem. These exquisite mittens are one size fits all, so you won't even need to know which size to order.
What lovely ladies are on your holiday shopping list this Christmas
Creative Commons Attribution: Permission is granted to repost this article in its entirety with credit to ChristmasGifts.com and a clickable link back to this page.