Winner of the Tea Pot Giveaway Contest!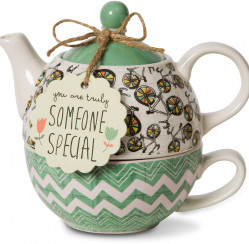 We are pleased to announce the winner of the Tea Pot Giveaway contest. A warm Thank you to everyone who participated. There were so many great choices picked for people's favorite products and it was really hard to choose a winner.
The winner we chose was Rita Spratlen and she won this gorgeous Teapot & Cup set by PavilionGift.com . A unique Christmas gift that is perfect for those with limited kitchen space, the Someone Special Teapot & Cup Combo features:
Created from high quality ceramic
Originally designed in Upstate, New York
Pot holds a full 15 ounces of your loved one's favorite brew
Stackable cup and pot combo
Help us congratulate her and stay tuned for our next giveaway!