We've Got the Best Christmas Gifts for Mom from Son Right Here!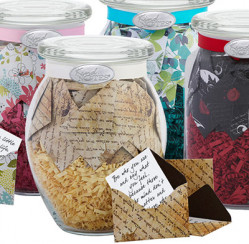 So you still haven't purchased Mom a Christmas gift. It's okay, we understand. Shopping for Christmas gifts for Mom from son can be awkward and frustrating, especially if you don't have any great gift ideas. While you want to get your mom something that is just as amazing as she is, you just aren't sure what that would be. Jewelry would be nice, but that fancy jewelry store downtown is way too expensive for your budget this holiday season. You could always get her clothing, but it is pretty difficult to pick out clothes for your mom when you're a guy. You have probably considered one of those nifty little gift sets on the holiday aisle at the superstore as well. Don't do it. While we admit that there are a few nice gift sets available at discount stores this time of year, most of them are impersonal. It's no wonder that you are frustrated with your holiday shopping! Don't worry, though. We have some wonderful ideas for Christmas gifts for Mom from son right here at ChristmasGifts.com, and you still have plenty of time before the big day. Follow me, and I'll show you around.
Great Ideas for Christmas Gifts for Mom from Son
While we understand that you might be a bit intimidated by jewelry gifts for your mom this year, especially after seeing some of those prices at your local jewelry store, we have some wonderful jewelry solutions that you can actually afford! Check out our assortment of personalized jewelry that is created especially for moms, or consider a customized jewelry box to hold all of her most treasured pieces.
If you want to get your mom a sentimental gift that she is certain to treasure for years to come, consider these magnificent jars of notes! They are beautifully decorated jars that contain 31 personal messages from you to her. Each unique note is tucked neatly inside a tiny envelope and placed among decorative fill for an elegant touch. The perfect gift to show your mom how much you appreciate her this holiday season, she will enjoy reading these heartfelt messages even when you are away.
Why not think about a monthly club gift for your mom this year? There is everything from fabulous gourmet treats to bath and body items, wine and so much more to choose from. You choose the type of gift you would like your mom to receive, how often you want her to receive it, and for how many months. When it comes to Christmas gifts for Mom from son, this one is ideal.
Do you have other creative ideas for your gift to your mom this year? Tell us about it in the comments section, and don't forget to share us on Facebook!
Creative Commons Attribution: Permission is granted to repost this article in its entirety with credit to ChristmasGifts.com and a clickable link back to this page.