Unique Gifts for Someone Who Has Everything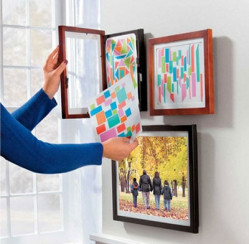 There isn't much that is more frustrating (or embarrassing) than watching with excitement as your recipient opens your gift Christmas morning and announces that it is just like two others he or she already has. But what do you do when that someone just seems to already have at least one of everything? While it's true, you could present your loved one with a simple gift card and make things easy, somehow a generic gift card just doesn't seem to be quite as special as a handpicked gift that you've put some real thought into.
Unique Gifts are hard to find in stores
Unfortunately, the local department stores don't typically carry many unique, or one of a kind gifts, and those specialty shops in the mall and downtown are so crowded that you probably won't be able to see past the crowds of frantic shoppers to find what you are searching for, and even if you did, their prices are often so outrageous that you can't afford anything in there anyway. While I understand that it is tempting to just throw in the towel and purchase yet another holiday tie, don't do it! I've put together a few tips for finding unique gifts and one of a kind items to help keep your holiday shopping experience as painless as possible.
Consider Personalized Gifts: Turn ordinary gifts into something truly extraordinary when you have it personalized for your recipient. With everything from one of a kind coffee mugs to customized jewelry, you are certain to find something completely unique for your recipient this holiday season.
Of the Month Clubs: Consider giving a gift that keeps giving throughout the year and present your loved one with an "of the month" club gift. Choose from a wide assortment of foods, beverages, and even cigars to brighten your recipient's day once a month. Since you get to select the duration and frequency of your gift, this type of present can be extremely versatile for a variety of budgets.
Experience Gifts: Create wonderful memories your loved one will cherish for years to come when you present him or her with an experience gift certificate. There are thousands of experiences to choose from so finding the perfect match for your recipient is almost a sure bet. Consider things like a day at the spa for that busy woman who has everything, golf lessons for the avid golfer, things like driving a race car or flying a plane for the adventurist, or a dinner cruise for your favorite couple.
Gift Baskets: Not just your ordinary gift baskets that are featured on the seasonal aisle of your local discount store, the gift baskets we feature are brimming with high quality items that are both unique and personal. Additionally, if you would rather create your own gift basket, you could always purchase a variety of items based upon a theme and present them as a single, one of a kind gift.
Do you have someone on your list who just seems to have everything this holiday season?
Creative Commons Attribution: Permission is granted to repost this article in its entirety with credit to ChristmasGifts.com and a clickable link back to this page.