Unique Christmas Gifts They Don't Already Have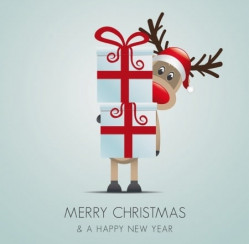 Every holiday season, it seems that we all have that one person on our Christmas shopping list that is just plain hard to buy gifts for. We search deep into our minds, trying to come up with something truly special, but even when it comes to unique Christmas gifts it seems like they have at least one of everything. While we love that person dearly, you have to admit when it comes to Christmas shopping, we sometimes tend to get a little bit frustrated.
To make things worse this year, not only do I have one of "those people" on my shopping list, but she gets so caught up in the holiday shopping spirit that she tends to buy things for herself as she sees them. While I am so happy that she is able to purchase the things that she wants right away, I have to admit that I honestly think all of my hair is about to turn grey because of her. Each time I come up with ideas for unique Christmas gifts for her, I discover that she's just purchased the same items for herself.
Well I have news for her! After months of searching for unique presents and almost giving up and getting her a generic coffee mug, I came up with a solution. I searched right here at ChristmasGifts.com and found a couple of really great gifts that I know she doesn't have.
Truly Unique Christmas Gifts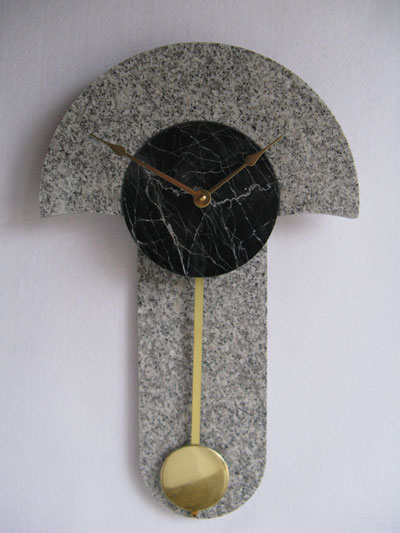 This elegant Wall Clock (W1WM) is certain to be the most treasured gift of all time for that somebody who has everything. Handcrafted from exquisite grey granite and featuring a white marble inset, this one of a kind piece will make the perfect conversation piece in any home or office. The beautiful brass hands and pendulum add just the right touch of elegance, and since it is made in the USA you can rest assured that it will be a treasured keepsake for generations to come. The clock is the perfect size to become an eye catching wall decoration all by itself, or the centerpiece of a collection.
On the lighter side, why not give your loved one the common cold, a kissing disease, E. coli, a red amoeba, and a brain cell this holiday season?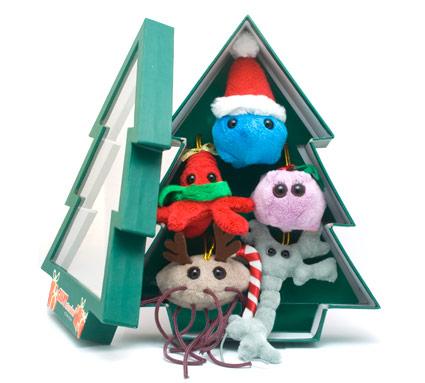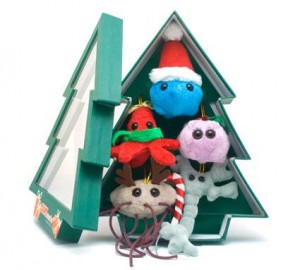 Of course you are probably thinking that I must have lost my mind or eaten too many Christmas cookies, but seriously- you should check this out! It may just be one of the most unique Christmas gifts that ever existed. It's the GIANTmicrobes Christmas Tree Gift Box of Ornaments, and it features stuffed, ornament sized versions of all of your favorite microbes, each dressed in their holiday best! If that special person on your shopping list has got a sense of humor, this gift is certain to become the life of the party at your gift exchange this Christmas.
Do you have at least one person on your list each year that just seems nearly impossible to buy gifts for? What do you typically do to remedy the situation?
Creative Commons Attribution: Permission is granted to repost this article in its entirety with credit to ChristmasGifts.com and a clickable link back to this page.