U.S. Hot Air Balloon Team Celebrates National Prayer Day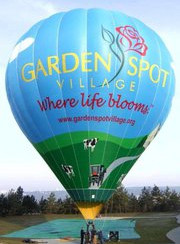 On May 3, 2012, hot air balloons rose in the air, each carrying a different banner from the selection of the words: HOPE, FAITH, LOVE, JOY and flew across Pennsylvania skies in honor of National Prayer Day, a religious event.
"We started Prayer in the Air in 2010 with Jack Wilson who has since died of a heart attack. The first year, we had five balloons carry the banners and we hope to get more. Last year the weather was uncooperative and prevented our flight," says US Hot Air Balloon Team owner Stan Hess, who put three balloons in the air of his own this year.
On his participation in National Prayer Day, Hess says, "I felt it was important to promote the fact that we live in a faith-based country founded on godly principles and have the freedom to celebrate the God-given right to express yourself publicly."
The PA-based U.S. Hot Air Balloon Team, led by owner and founder Stan Hess, supplied these faith-based banners to hot air balloon companies nationwide interested in attaching the bold words to the bottom of their balloon basket and carrying them through the air.
For nearly three decades, Hess and his ballooning team have been committed to offering passengers the most memorable, safe and entertaining hot air ballooning experiences in America and now, to connect this experience to the celebration of prayer and faith has been incredibly gratifying to the whole team.
Representatives from Focus on the Family, who run the event listing on their prayer site, encouraged Hess to continue his flight, despite the absence of the original organizer and to celebrate and encourage prayer in this unique way.
This year was the 61st year of National Prayer Day which, according to the NDP website, "was established as an annual event in 1952 by a joint resolution of the United States Congress and signed into law by President Harry S. Truman. The observance of the National Day of Prayer is founded on the constitutional rights of freedom of speech and freedom of religion and can be celebrated by all Americans."
Prayer in the Air launch sites for the U.S. Hot Air Balloon Team were at the following participating churches: Valley Forge Baptist Temple at Rt 113 & 422, Collegeville, PA; Bird-in-Hand near Lancaster, PA; and, Reading, PA in Berks County.
Headquartered in Southeastern Pennsylvania, the U.S. Hot Air Balloon Team is the only company in the world experienced in and qualified to arrange hot air balloon rides and tours locally, nationally and internationally. Flights are regularly scheduled in Chester, Montgomery, Bucks, or Lancaster Counties.