Touch His Heart with These Thoughtful Gifts for Boyfriends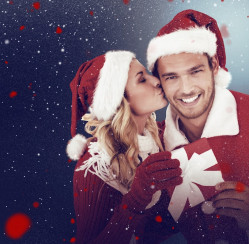 I remember a few years ago when I celebrated my first Christmas with my boyfriend (now husband). It was an exciting time, of course, but a time filled with gifters' anxiety as well. All that time, I thought I truly knew him, but when it came time to buy his Christmas gifts, my mind simply went blank. We had spent all of our time together, but when it came down to what he liked to do when he was away from me, I simply didn't know.
I wanted to touch his heart with a thoughtful gift that said "I love you", but I didn't want to be corny with something that was too sentimental. Thankfully, he found himself in the same boat. We bought equally corny gifts for each other and spent the best Christmas ever pretending to love every one.
Whew! Now we are married and I can buy all the corny gifts I want every Christmas, because somewhere along the way I discovered that it was those kinds of gifts that truly touched his heart. Fortunately for you, however, I promised myself that nobody would ever have to suffer through such gift giving anxiety ever again if I could help it. I dug deep into Santa's bag just for you to find the most amazing thoughtful gifts for boyfriends this holiday season. Whether that man in your life is an exciting adventurist, a humble homebody, or a geeky gadget kind of guy, ChristmasGifts.com has the most thoughtful gifts for boyfriends of all personality types.
Thoughtful Gifts for Boyfriends Who Love Adventure: It's been my experience that some of the most wonderful Christmas gifts for boyfriends are not packaged in a box, but instead held deep in their hearts. They are called memories, and with these unique experience gifts, you can help create wonderful memories that you and he can share. Make his heart race with a racecar driver for a day experience gift, or let his spirits soar with flying lessons!
Thoughtful Gifts for Homebodies: Cuddle up on the couch with your favorite guy this holiday season and watch a movie on this cozy portable TV. Be sure to include a few man cave items like personalized beer glasses and a gift basket of snacks, or show him your sentimental side with a personalized jar of notes and a customized photo frame with your favorite photo of the two of you.
Thoughtful Gifts for Boyfriends Who Love Gadgets: Bring out his inner geek with a remote control car, a home surveillance system, or a fleece headphone beanie. Other geeky items to consider? What about a virtual instrument, a watchstrap for his iPod Nano, or a mechanical chess clock?
Is this your first Christmas with your boyfriend, or have you shared many Christmases together? What was your most awkward Christmas with a boyfriend in the past? Share your stories- we love hearing from you!
Creative Commons Attribution: Permission is granted to repost this article in its entirety with credit to ChristmasGifts.com and a clickable link back to this page.