Top 10 Christmas Gifts For Dad in 2015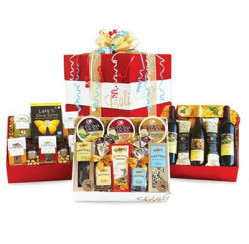 Shopping for great Christmas gifts for Dads can be extremely challenging, and for me, the task just seems to become more difficult every year. I mean, how many screwdriver sets, ugly Christmas sweaters, or remote control organizers does one dad need after all? And sadly, I can guarantee you that my dad has his fair share of each!
I thought about heading down to the discount store and getting him one of those meat and cheese gift boxes, but they usually have contents that are overrated and overpriced. Besides, I really don't see Dad getting excited over a generic box of snacks. I can't afford to spend hundreds on that TV he's been wanting, and he has enough cologne to add fragrance to the entire United States population.
After countless hours racking my memory for all of those great ideas that I came up with throughout the year that mysteriously disappeared from my frantic mind, I decided to consult with some of the elves. Here is what they told me our list of Top 10 Christmas Gifts for Dad would be for this year.
Top 10 Christmas Gifts for Dads
If your dad is one of those sophisticated men who appreciate the magnificent flavor and aroma of premium cigars on occasion, check out the 5 Vegas Sevens Gift Box from Cigars International.
The City Skylines canvas from Great Big Canvas is the perfect Christmas gift for Dad's home office this year.
This adorable Roaming Gnome is an excellent choice for the dad who loves gardening this Christmas.
His Christmas celebration won't be complete without this Wine, Cheese and Gourmet Celebration Pack that includes an abundance of magnificent holiday wines, cheeses and gourmet treats.
Do you have a beer lover on your list? The International Beer Club is the perfect solution.
Get Dad a home surveillance system this holiday season and let me relax knowing he is keeping his family safe.
Feature Dad on the cover of a fake magazine this holiday season! Your Cover offers a wonderful selection of fantastic templates that enable you to create an entire cover that displays Dad's most amazing personality traits and impressive achievements.
Is Dad fascinated with classic cars? Order this impressive Collectible Automobile Magazine subscription and add some wow to his Christmas.
What about a fabulous experience for Dad this Christmas? Choose from stock car ride alongs, golf lessons, and much much more for your adventurous dad.
Get Dad something really unique to enhance his man cave experience this Christmas. Personalized Pub Glasses should do the trick!
Be sure to check out our other unique Christmas gifts for dads this year, and let us know which ones are your favorites, and don't forget to share us on social media so we can see what exciting ideas all of your friends have.
Creative Commons Attribution: Permission is granted to repost this article in its entirety with credit to ChristmasGifts.com and a clickable link back to this page.