Top 10 Christmas Gifts for Dad in 2015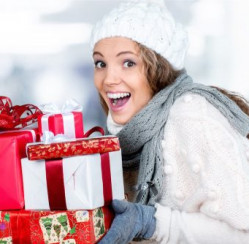 As Daddy's little girl, shopping for Christmas gifts for Dad shouldn't be such a challenge. I mean, I have spent countless hours throughout the years listening to his wonderfully creative stories, sitting on his lap during the World Series and the Super Bowl, and learning all about who he really is. Why then, I ask you, is it so hard to find Christmas gifts that I know he will approve of? Never mind. I can answer that myself. It is all because my dad is a one of a kind person and those generic Christmas gifts at the superstore just won't suffice. My dad is 77 years old this year, and I am not sure how many wonderful Christmases I will have left with him. I want so badly to give him something he will adore. I trudged through the snow packed roads, fought the Christmas shopping crowds, and eventually can home empty handed. It was then that I remembered the luck I have had with ChristmasGifts.com!
Our Top 10 Christmas Gifts for Dad
Whether you are Daddy's little girl, Dad's special son, or a mom who is in search of the perfect gift for that special dad in your life, these great gifts for Dad are certain to be just what you need.
Pocket Watch: Remember all of those times Dad showed up early for your school plays, sports games, and other activities? And how he never missed a beat when it was bedtime, suppertime, or the game was on TV? Show him how much you appreciate his timeliness with a personalized pocket watch this Christmas.
Cigars: An excellent Christmas gift dads who tend to enjoy an occasional cigar or the cigar enthusiast in your life, the cigar gifts at ChristmasGifts.com are smokin' hot this year.
Experience Gifts: Give Dad that experience he's always dreamt of with flying lessons, golf lessons, sky diving, race care driving and more.
Fake Magazine Covers: Feature Dad and all of his accomplishments on the cover of a fake magazine.
Personalized Glasses: Deck the man cave this Christmas with personalized beer glasses.
Surveillance System: Encourage Dad to keep his eye on you (like he needs any extra encouragement) with a home surveillance system.
Portable TV: Now Dad can watch the game no matter where he is with a portable TV.
Jars of Notes: Give Dad a sentimental jar of notes filled with your most heartfelt messages this holiday season, and show him how special he really is.
Personalized Photo Frame: Remind Dad of those special times you've shared throughout the years with a personalized photo frame. Don't forget to insert your favorite photo for an even more special gift.
Coffee Center: Dad will look forward to waking up to his favorite specialty coffee drink this winter when you present him with a new coffee center.
What's on your list for your dad this Christmas?
Creative Commons Attribution: Permission is granted to repost this article in its entirety with credit to ChristmasGifts.com and a clickable link back to this page.