The Results are In: Top 10 Christmas Gifts of 2014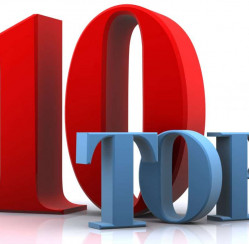 Now that the hustle and bustle of Christmas is pretty much over, you can finally settle in and relax a little bit, and review the top 10 Christmas gifts for the year. Well, unless you are like me and decided to put some of your Christmas shopping off until after the big day. Since I always celebrate the Christmas holiday with my immediate family, I have found that shopping for everyone else right after Christmas can really take a lot of pressure off. Not only do a lot of products go on sale right after Christmas, but this practice also gives me the opportunity to see what everyone has already received, and which gifts were most popular for the current year. Besides, it seems like every single year I discover that there are at least one or two special people that for some reason I completely forgot to buy gifts for.
Top 10 Christmas gifts of 2014
One of the best ways that I have found to come up with great ideas for after Christmas gifts for my loved ones is to review top selling products and items with the highest customer reviews. Since I have already done my homework this year, I have decided to help you out with what I found out, so I've created a list of the top 10 Christmas gifts for 2014 just for you. The best part about this list, is that you can find many of the products featured right here at ChristmasGifts.com!
As usual, electronics made the top of the list when it comes to the top 10 Christmas gifts this year. While iPhones, tablets and other electronic devices were a major hit with people of all ages for 2014, gadgets and accessories that are designed to compliment these gifts were extremely popular as well.
When it came to the ladies this holiday season, jewelry gifts were a top choice. We aren't just talking diamonds, either. Some of the favorites included personalized jewelry pieces and unique creations from one of a kind jewelers.
Educational gifts were very popular with parents and children alike in 2014, and with everything from personalized storybooks to building blocks available, there is something for everyone in this category.
Did you know that even Bill Gates himself chose to purchase a GIANTmicrobes stuffed toy this Christmas? While the Polio microbe was his choice, there is an abundance of other creations to choose from as well.
Favorites for the man cave included personalized pub glasses and beer tasting sets.
Experience gifts were some of the most appreciated gifts for Christmas 2014, and with everything from race car driving to flying a plane, it's no wonder.
Health conscious individuals were on a roll this year with everything from salt lamps to beauty and pain relief devices.
As always, gift baskets were a huge hit for the holidays. Check out the massive assortment featured at ChristmasGifts.com and you'll see why!
When it comes to gifts for loved ones who live far away, gift of the month club memberships hit the spot.
Personalized gifts gave Christmas 2014 a very special touch. Items like personalized photo lamps, wall hangings and personalized jewelry and jewelry boxes were among the favorites.
What were your favorite gifts for Christmas 2014?
Creative Commons Attribution: Permission is granted to repost this article in its entirety with credit to ChristmasGifts.com and a clickable link back to this page.