The Ins and Outs of Shopping for a Co-worker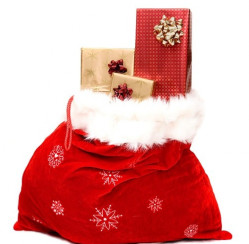 Let's face it- shopping for a Christmas gift for a co-worker can be one of the most frustrating tasks you will ever complete; especially if you don't really know that co-worker very well. Years ago, I can remember trudging through shopping malls and exploring all of the quirky shops downtown in hopes of finding "that perfect gift" for one of my co-workers, only to finally give up at the last minute and grab one of those impersonal premade gift boxes off of the main aisle display at my local supercenter.
I remember dreading the day of the gift exchange to the point that I would often have nightmares about watching my co-worker open my completely unspectacular gift. When the moment finally came, I could often be found slouched down in a far corner, my face hidden behind the nearest dessert tray in hopes of becoming invisible. There was nothing I hated more during the holiday season.
After a few years of repeating this horrifying and awkward experience, I decided that it was time I took action. I vowed to never become a victim of gift giver's remorse again. If you are tired of offering your co-workers ho-hum, generic gifts that make your holiday gift exchange uncomfortable and even embarrassing, and you too are ready to make a change, slather on some sunscreen, grab your laptop or tablet, and I will show you the ins and outs of shopping for a spectacular Christmas gift for a co-worker.
Eavesdrop: Okay, I know- your mother taught you not to do it. Your teachers taught you that it was rude. But trust me, if you really want to know what your co-worker wants for Christmas, eavesdropping can be a valuable talent. Pay attention to conversations that your co-worker has about hobbies, interests, wants and wishes, and make a list of ideas that would compliment his or her tastes.
Evaluate the Personality: Decide whether your co-worker is a "free bird" a "techie", a conservative type or a jokester, and search for gifts that fit his or her personality. Taking this approach means that you don't necessarily have to offer the most magnificent gift ever received, because something that fits his or her personality will always be appreciated.
Consider the Bucket List: Are there experiences that you think your co-worker would like to try? Is there something he or she might like to see? Give him or her the chance to enjoy something new for a change- try to consider something he or she would not splurge on for himself/ herself. Think on terms of guided tours, a scenic cruise, a day at the spa, or go all out and opt for skydiving or flying a plane. The options are endless.
Types of Gifts Your Co-worker Gives: Keep in mind that people often give the same types of gifts that they would like to receive.
Delivery is Key: If you decide to settle for a gift that is less than spectacular this holiday season, spruce it up with elaborate wrapping paper or a fancy gift box complete with ribbons and bows. Even the most ho-hum gifts become more interesting when they are delivered in a way that says "hey- I'm pretty special".
Do you often have trouble when shopping for a Christmas gift for a co-worker?
Creative Commons Attribution: Permission is granted to repost this article in its entirety with credit to ChristmasGifts.com and a clickable link back to this page.