The Gift of Family Time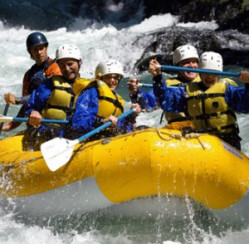 One thing that most parents agree on is that they don't get enough quality, family time together. From sports practice to daily chores to girls' nights out to sleepover parties, it's easy to pass by each day without creating a lasting memory.
This Christmas (or birthday or Father's Day or Mother's Day), get some family time in by giving experience gifts from Cloud 9 Living—a unique gift the whole clan can enjoy together while creating lasting memories.
Experience gifts are based on the concept that we remember moments, not things. Cloud 9 Living has taken this concept and created a catalog of excursions that can be enjoyed by the whole family.
Here are some of the favorites to consider for Christmas gift ideas this year:
For the Outdoors
Whitewater Rafting down rapids ranging from calmer class II up to the roaring class V. This adventure provides some thrills while still being safe for all.
Explore your surroundings, from mountains to lakes to forests, with a guided hiking experience. Certified guides teach you and the family about the surrounding nature and safety skills of hiking.
Learn to roll, go whale watching or go on a tour: all on a kayak! All ages and skill levels can adapt to kayaking, and you can take bonding a step further by renting double kayaks.
Grab the kids for a private, chartered sailboat cruise. With just the family and the water, this is a true memorable and connecting experience.
For the Cultured
See your city from a different view and roll around on a segway tour. Just picture your family rolling around with smiles spread wide while an informative guide entertains you with stories, great photo ops, and both present and historical facts of the area.
Soar high on a hot air balloon ride. Not only is it a once-in-a-lifetime experience, but you can enjoy the scenic photos for years to come.
For the Foodies
Enjoy tastes of the city together on a food tour. You can choose from fine dining, food trucks, breweries and more! Take bonding time a step further by having each family member talk about their favorite dish and then recreating it together at home.
Tired of slaving over the stove? Bring a personal chef to your house for a night so you can enjoy a sit-down dinner with the entire family. And don't worry, there won't be any scuffles over who is doing the dishes.
Escape for the afternoon and take a lunch cruise together. Time spent on the water is time well spent!
So skip on the malls, don't hassle with picking out another piece of jewelry or tie and instead give an experience that the family can enjoy together and remember forever.