The Elves Have Worked Extra Hard to Find the Best Employee Christmas Gifts Ever!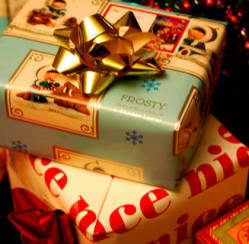 You've been making your list and checking it twice, and you've got some pretty great employees marked down on your "nice" list this holiday season. Selecting gifts that are appropriate for employees and coworkers can be more difficult than it seems, sometimes. While you want to make certain that you present your employees or coworkers with gifts that are a strong reflection of your appreciation for all of their hard work throughout the year, you don't want to select gifts that are too personal and might make them feel uncomfortable. Your employees and coworkers have worked hard all year, isn't it time to give them something special in return?
If shopping for employee Christmas gifts has got you feeling the pressure this holiday season, don't you worry. The elves have some great ideas.
Office accessories can make magnificent Christmas gifts for your employees this Christmas, and in most cases, they won't drain your wallet so you can afford to buy something special for every employee on your list. Consider things like customized pens or personalized stationary, a unique paperweight, or even a nice desk/ wall clock. Personalized wall hangings and photo frames make excellent employee Christmas gifts as well. worked hard to bring you some of the most wonderful gifts imaginable for your employees and coworkers.
If you are searching for something truly unique this holiday season, check into purchasing a share of stock in your employee's favorite company. With shares available in everything from Xerox to Disney, you are certain to find something he/ she will love. "Share" gifts come complete with a genuine share certificate and a handsome frame for displaying this unique piece.
Who would have ever thought that giving your employees a special experience could be so affordable? With experience gift certificates starting at around $50, and thousands of experiences to choose from including everything from wine tasting tours and
dinner cruises to rock climbing and pilot for a day adventures, experience gifts make excellent employee Christmas gifts for everyone on your list.
"Of the Month Club" subscriptions are a unique way for your to show your appreciation for your employees throughout the entire year! You can choose to have your gift delivered every month for three, six or twelve months, so the cost is ultimately up to you. Even better, you decide upon the type of gift your employee receives, and top selections are delivered right to their home or office, complete with a customized gift card.
While you won't likely be sending your employees to the moon this holiday season, you can purchase an acre of land on the moon in their name. Complete with a genuine deed, a map that pinpoints the location of their land, and a custom gift card, your employees are certain to love this unique gift. If the moon isn't creative enough for your taste, land on other planets is also available.
When one gift just isn't enough to show your appreciation, consider a gift basket this Christmas. There are gift baskets available that are created especially for chocolate lovers, fruit fanatics, and even wine connoisseurs, so finding the best fit is a cinch.
Have you ever received a completely unique Christmas gift from a coworker?
Creative Commons Attribution: Permission is granted to repost this article in its entirety with credit to ChristmasGifts.com and a clickable link back to this page.