The Best Office Christmas Gift Ideas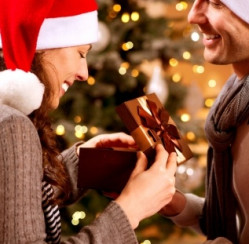 Shopping for Christmas gifts for coworkers and business associates can get quite expensive, especially if you plan to buy a gift for a large group of people. When you are already strapped for cash during the holiday season, the added expense can be pretty stressful. While many people in this situation would be tempted to purchase a few of those basic gift sets that are stacked on the seasonal display at the local discount store, and others would be tempted to reveal their inner Scrooge and skip the task altogether, we at ChristmasGifts.com have accepted the challenge and welcome it as an exciting adventure that enables us to provide you with even more exciting gift ideas! Put your car keys away and grab a hot cup of coffee, you won't even have to leave home with these best office Christmas gift ideas.
The Best Office Christmas Gift Ideas that Will Leave a Little Jingle in Your Pocket
A Gift for the Whole Group: Instead of purchasing individual Christmas gifts for the office this holiday season, you might consider buying a single gift for the entire group! Some of the best office Christmas gift ideas for large groups are gift baskets. Check out the Wine, Cheese and Gourmet Celebration Pack for offices with an abundance of workers, or consider something like the Office Nut Gift Basket for a smaller crowd. We have a large variety of other unique gift baskets as well, so be sure to check out our gift baskets section for more group oriented ideas.
Create Your Own Gift Basket: Head over to your local thrift store and grab a few wicker baskets or other fun containers and then fill them with things like custom note pads, ink pens, paper weights, coffee mugs and a package of gourmet coffee, candy, cigars, wine or other unique items. Be sure to decorate your baskets with holiday bows or personalized ornaments to add a festive touch. When you create custom gift baskets, the possibilities are endless.
Two Gifts in One: Purchase a few Gift Card Christmas Ornaments and fill them with gift cards, movie tickets, or other small items and give your office workers two gifts in one this holiday season. Really spice things up and add lottery tickets that they can scratch off. (Be sure to include a fake lottery ticket for even more fun!)
Another Hot Idea: Purchase personalized coffee mugs for everyone on your list this holiday season, and fill them with candy canes or other festive candy, personalized ink pens, movie tickets, packets of hot cocoa or tea, and other small items.
Make a Game of It: Instead of buying individual gifts for each person, suggest that each office worker bring in a single wrapped gift. The more creative they get, the more fun this will be. During your celebration, have each coworker draw a number. Place corresponding numbers in a container and have someone draw to see which coworker gets to choose a present. As they take turns, each new person is allowed to choose an unwrapped gift of their choice, or trade gifts with someone who has already had a turn.
Creative Commons Attribution: Permission is granted to repost this article in its entirety with credit to ChristmasGifts.com and a clickable link back to this page.