Take it Outside: Outdoor Christmas Gifts for Him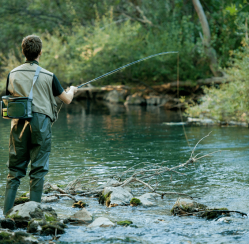 I don't know about you, but when it comes to the Christmas season, my husband is definitely not one of those stay inside kind of guys. It doesn't seem to matter how cold it is outdoors, how much snow is on the ground, or how brisk the winter wind is, he simply cannot stand being in the house. While his outdoorsy side is something I truly love about him, and I am grateful that he isn't a couch potato like some of my friends' husbands, when it comes time to buy Christmas gifts things can sometimes get a bit difficult.
Last year was particularly a challenge. I felt like such an outcast as I explored the aisles of our local sporting goods store in search of outdoor Christmas gifts for him. It was really quite an intimidating experience to say the least. Just imagine my 5'6″ frame, decked out in my pink cardigan and high-heeled fashion boots surrounded by very large, burly men with mud up to their knees, flannel shirts and ball caps, fighting for the last compound bow that just happened to be placed securely on the top shelf. Let's just say, as I walked away empty handed, I decided that was definitely not my scene.
I returned home licking my wounds, trying to decide on my next move when I suddenly remembered- I had all the tools I needed to find the perfect outdoor Christmas gifts for him at my fingertips. The internet is a powerful thing, and within the hour I realized that I had all of my Christmas gift shopping completed and hadn't even finished my mug of hot cocoa. If you have an outdoorsy man in your life and you are searching for outdoor Christmas gifts for him, you are going to love some of the creative items I found! Here are just a couple of my favorites:
Fishing is a sport that can be enjoyed throughout the year, and you can find some really unique fishing items that make excellent Christmas gifts. I wasn't ready to settle for a cheaply made tackle box and a container of worms last year, so I decided to combine a few great ideas in order to create a one of a kind fishing gift basket. I purchased a medium sized metal bucket and filled it with things like a new rod and reel, the Joe Bucher Outdoors Shallow Raider Magnum, a few other unique lures, basic hooks and sinkers, a personalized magazine cover that featured my husband as an award-winning fisherman, and of course a fishing license.
Since it is very cold during the winter months where I am from, I decided to send my hubby on an outdoor adventure in a warmer climate. With the help of ChristmasGifts.com I found some amazing outdoor experience gifts at a fraction of the cost I had expected. With everything from golfing and sailing adventures to race car driver and pilot for a day adventures, you are certain to find a great outdoor gift for the man in your life.
For more unique outdoor Christmas gifts for him, browse around ChristmasGifts.com today.
Creative Commons Attribution: Permission is granted to repost this article in its entirety with credit to ChristmasGifts.com and a clickable link back to this page.