Spring Into Action: Sending The Gift of Flowers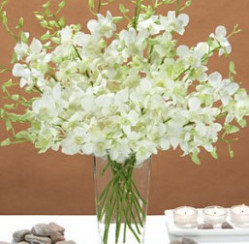 When was the last time someone sent YOU flowers?  Wasn't it terrific to see the bouquet and wonder to yourself "I wonder who sent these?"  How about sending that feeling to a friend or loved one as a gift?
With the sunny weather and the smell of fresh cut grass in the air, the gift of flowers is a nice Christmas gift ideas that makes for an easy and simple way to give a "flowery" hug to someone you care about.
Many Other Occasions
Flowers have become a staple for birthdays, Valentine's Day and anniversaries.  Here are just a few other reasons for brightening someone's day:
Tough Day
I'm thinking of you
You're Doing a Great Job
I'm Sorry
Best Flowers to Send
There are so many beautiful flowers to choose from.  For example, flowers such as white lily's and white roses are ideal for sending during the winter season.  For springtime, bright chrysanthemum, daisy's and tulips make the best flower choices for spring.
A Rose by any other Name
Did you know there are over 50 different colors of roses?  While the white, yellow and red are still very popular, there are also maroon, orange, lavender and deep maroon color that looks black.
Colors have meaning
When giving flowers, when it come to roses in particular, the color of the flower has meaning.   For example, red symbolizes love.  Pink represents grace and elegance.  Yellow signifies friendship.  White signifies new beginnings.  Orange represents excitement and enthusiasm.  Lavender represents a deep adoration.
Gender
No longer are flowers as gifts just for women.  Flowers as gifts, for men, is quite popular.   Flower choices range from the standard rose, daisy and Lilly collection, to the exotic; such as orange bi-color roses with yellow orchid blossoms.  There are different vase options for men as well ranging from clear vases, to ceramic baseballs or even a ceramic pickup truck.
Tell us a time when flowers really made YOUR day.