Romantic Christmas Gifts that Will Touch Her Heart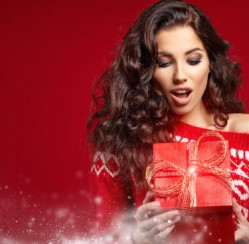 When most people think about romantic Christmas gifts, they tend to think about expensive presents that drain their bank accounts. In reality, however, romantic gifts don't have to cost much at all. It isn't the price tag on gifts that makes them romantic, it's the thought that is put into them and the connection that they make. While the local big box store downtown is chock full of everyday Christmas gifts for women, most of what they display is simply ordinary, thoughtless, and easy. When it comes to romantic Christmas gifts, that toaster that is on sale for the holidays, for example, just doesn't quite fit the bill. If you truly want to touch the heart of the special woman in your life this holiday season, look deep into your memory and think about the time that you have spent together. Think about the things that make her smile, make her laugh, and make her cry tears of joy. Then put that toaster back on the shelf and leave the big box store immediately. We've got the most romantic Christmas gifts and gift ideas right here, after all.
Romantic Christmas Gifts and Gift Ideas We Know She Will Love
You've probably heard about those couples who leave little notes around the house when they first start dating to let each other know how much they are thought of and loved, right? Well my parents still do that after 53 years of marriage! Talk about romantic. We've got an idea that takes this romantic gesture one step further, however. Check out this beautifully decorated Jar of Notes, and you will see. Filled with 31 tiny envelopes that contain personal messages to your loved one, this charming gift is certain to be cherished. Now that special lady in your life can read a personalized message filled with love, encouragement or inspiration anytime she needs a little pick-me-up.
Being romantic would be so much easier if you knew exactly what your lady wanted and when she wanted it. Make life simple and romantic at the same time with these creative Keepsake Coupon Tickets this holiday season. This festive red bag contains 10 high quality silver tickets that can be presented to you for things like endless kisses, date night, hugs, and other romantic gestures throughout the year.
An inexpensive way to show that lucky lady in your life how much you care, this Gift Card Christmas Ornament is a great idea! Not just for gift cards, you can fill it with lottery tickets, tickets to the movies or an upcoming concert, or even just a special note from you professing your love.
Give her a gift that keeps on giving throughout the year with a Bath and Body Gift of the Month Club Choose the frequency and duration of your gift, and your lady will receive a new gift delivered right to her door for as long as you choose.
What Romantic Christmas gifts can you think of this holiday season?
Creative Commons Attribution: Permission is granted to repost this article in its entirety with credit to ChristmasGifts.com and a clickable link back to this page.