Romantic Christmas Gifts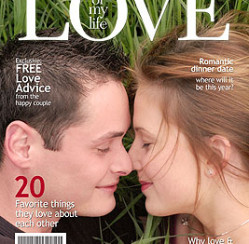 With 7 kids, 5 of which are of the "dating" age, the search for unique romantic Christmas gifts, birthday gifts and anniversary presents has become something of an obsession around our house. While it's true, the guys could easily each send a nice bouquet of flowers to their lady friends, and the girls could probably round up tickets to a football game or something of the like for the guys, those types of gifts are simply too ordinary for kids like mine. It is almost like they challenge each other to find the most out of the ordinary romantic gifts for their other halves each time there is any type of special occasion, and me being the creative mom that I am, guess who usually gets stuck in the middle?
Fortunately, when it comes to finding romantic Christmas gifts and gifts for other special occasions, I know just where to go. I figure that since Santa Claus and Mrs. Claus have been together since the beginning of time, they must be doing something right, so a few months ago I decided to take their lead. I scoured the internet in search of romantic Christmas gifts that would be impressive enough to satisfy the Claus', and as usual, I ended my search right here at ChristmasGifts.com. Are you ready to check out what I found? Grab a glass of lemonade and a box of tissue and let's get started.
Romantic Gifts for All Occasions
Romance is in the air all throughout the year. Whether you are searching for romantic Christmas gifts, heartwarming anniversary gifts, special gifts for birthdays or romantic gifts for almost any occasion, ChristmasGifts.com is the place to be.
Creative Commons Attribution: Permission is granted to repost this article in its entirety with credit to ChristmasGifts.com and a clickable link back to this page.