Rock Around the Christmas Tree with the Best Office Christmas Party Gifts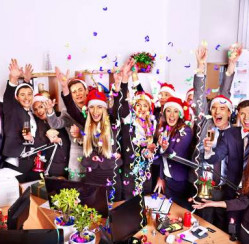 The best office Christmas party gifts and gifts ideas are sure to make that ho-hum office party an event to remember this holiday season. The problem is, however, how exactly do you go about finding great gifts for your office Christmas party? And even when you finally locate fun office party presents, you are stuck with deciding which of these gifts will fill the office with festive laughter and glee, and which ones risk receiving that bah-humbug response. After all, you don't want to be that one person that brings a generic box of chocolates from the local five and dime do you?
Whether you are in charge of planning your festive office celebration, or you are simply searching for exciting Christmas gifts to bring to the event, we have all the most useful tips, gift suggestions and fun ideas that are certain to make your next office party one to remember.
Tips for Finding the Best Office Christmas Party Gifts
Forget the local big box store, stay in and away from the winter weather, and search online for the best office Christmas party gifts.
If you are shopping for individual gifts for coworkers this year, consider ordering personalized coffee mugs and filling them with holiday candy, desk supplies, packets of cocoa, tea of coffee, or other small items. Personalized coffee mugs are not only inexpensive, they are gifts that are certain to be useful as well.
Consider purchasing a single gift and present it to everyone at your party. Gift baskets, holiday gift trays and unique food or drink items make excellent office gifts for coworkers as a group.
The Best Office Christmas Party Gift Suggestions
ChristmasGifts.com is loaded with a wide assortment of office Christmas party gifts. A few of our favorites include:
One of our favorite merchants, Miami Beach Chocolates, offers numerous chocolate gift baskets and gift boxes that are perfect for festive office celebrations. Not just your ordinary chocolates, the exquisite assortment of chocolates offered by Miami Beach Chocolates includes the unique flavor of their one of a kind chocolate recipe that is prepared fresh onsite. Be sure to check out the Miami Beach Elegant Classic Holiday Gift Basket for a gift that is truly impressive.
Enable your coworkers or employees to indulge in the sensational flavor of cappuccino or espresso without ever leaving the office! The Rancilio Silvia Espresso Machine is the gold standard by which machines of this type are judged, and this unit has been a leader in its class for more than 8 years!
The best coffee machine in the world is nothing without fabulous coffee beans or ground coffee. Treat your office workers to a generous supply of gourmet coffee beans or ground coffee, an assortment of flavorful creamers, sweeteners, syrups and other supplies to enhance daily life at work throughout the year.
How does your office celebrate the holidays?
Creative Commons Attribution: Permission is granted to repost this article in its entirety with credit to ChristmasGifts.com and a clickable link back to this page.