Personalized Gifts To Give Easter Flair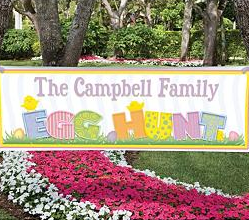 It isn't too late to make Easter a splash with family and friends and, by personalizing your Easter event, you can create great memories and lasting impressions.
One of ChristmasGifts.com's sponsors is Personal Creations.com that specializes in unique personalized gifts, and  this Easter they are presenting a selection of wonderful ideas to make your Easter more fun and snazzy. You can even get ideas for personalized do-it-yourself Easter projects.
Here are some of our top picks on personalized Easter gift ideas and Easter decorations for events:
Egg Hunt Banner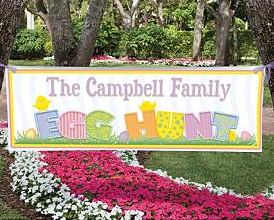 Make your Easter egg hunt stand out with a personalized banner. This one from PersonalCreations.com is scratch, wrinkle and water resistant and is personalized on the top line with any message, up to 25 characters.
Metal Garden Bunny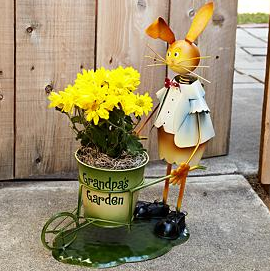 This cute garden bunny adds personality to your garden and can be displayed there year-round.It is handcrafted of metal and hand painted with any message on 2 lines, up to 10 characters per line.
Easter Bunny Metal Watering Cans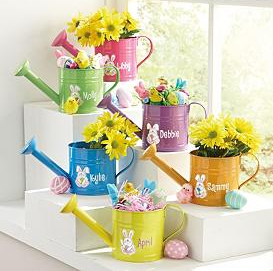 Also for the garden are these colorful metal watering cans, available in pink, green, purple, blue, orange and yellow colors. As an Easter gift, you can put flowers in them, or toys, stuffed animal or candy. These are also personalized with any name, up to 9 characters. After the occasion, these watering cans can be used to water your garden plants or just as garden displays.
Cheerful Easter Hand Towels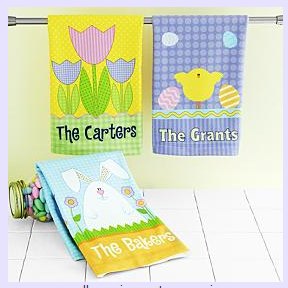 The cheerful pastel colors of these hand towels are so springtime, and they are adorned with artwork. Choose from chick, bunny or tulip designs and personalize the towel with any message on 1 line. As you can see, these hand towels can be used and displayed all Spring.
Over-sized Easter Gift Bags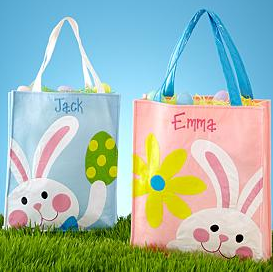 Again, these bunny bags have Springtime colors that make a bright and whimsical gift. The bags come in pink or blue and are embroidered with any name up to 9 characters.
Tell us what you're planning to do this Easter!