Personalized Gifts for Mom and Dad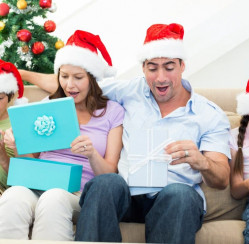 Let's face it; finding meaningful Christmas gifts for Mom and Dad can be quite the challenge. We want so much to choose gifts that show our appreciation for the years they spent attending school plays, helping with homework, listening to our torturous music lessons, and, well, putting up with us while still maintaining most of their sanity. Unfortunately, however, most of us can't afford to send our parents on an exotic vacation or buy them a new sports car for Christmas, so for those of us on a budget, I found some great (and affordable) personalized Christmas gifts for Mom and Dad that they are sure to love.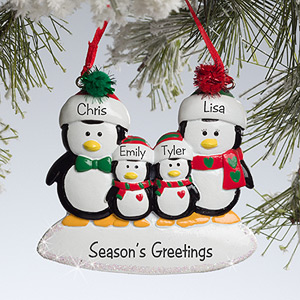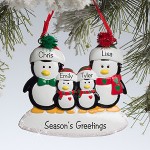 Penguin Family© Personalized Ornament
This festive ornament can be personalized with the names of up to six family members and a custom greeting to create a one of a kind gift that is certain to be treasured for many Christmases to come.
$15.95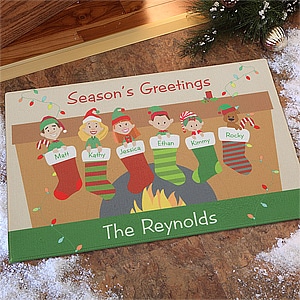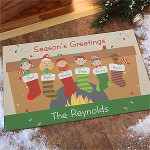 Stocking Family Characters Personalized Standard Doormat
Give Mom and Dad a welcoming surprise this Christmas with this unique holiday doormat. Choose up to six characters to represent family members, character names, a custom greeting, and a family title to customize this durable doormat especially for them.
$29.95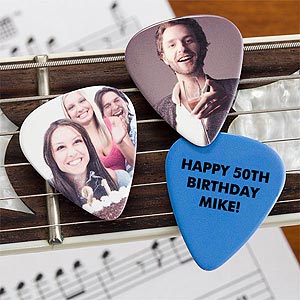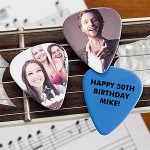 Picture This! Personalized Photo Guitar Pick
If Mom or Dad play guitar, this personalized guitar pick will rock their Christmas for sure. Select your favorite photo to display on the front of the pick, and add a special sentiment on your choice of backgrounds on the back. Sold in packages of 20, 40, 60, 80 and 100.
$26.95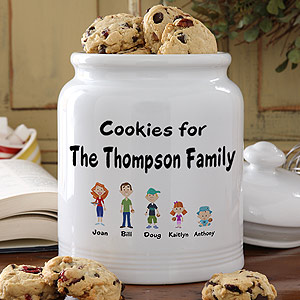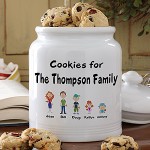 Our Family Characters Personalized Cookie Jar
Mom can store all of her fabulous Christmas cookies in style when you give her this personalized cookie jar this holiday season. Customize it with your choice of up to eight cartoon characters, each family members name, and up to two lines of text at the top.
$39.95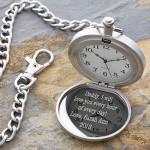 Herrington Engraved Silver Pocket Watch
Give dad the time of his life this holiday season with this exquisite brushed silver-plated pocket watch. Customize with a 2-3 letter monogram on the front and any heartfelt sentiment (up to 5 lines) on the back.
$37.40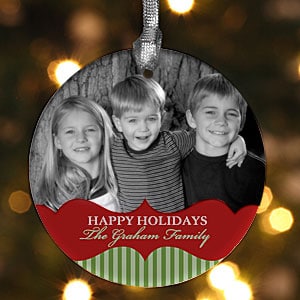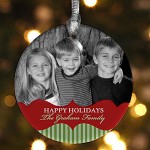 Classic Holiday Personalized Photo Ornament
What better way to honor Mom and Dad this Christmas than to present them with a personalized ornament that displays your favorite photo of them or the family? Add up to two lines of season's greetings or personalized text to customize this unique gift even more.
$14.95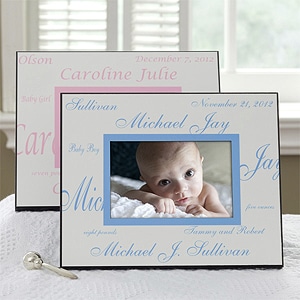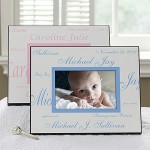 Personalized Baby Frame
This personalized baby frame is an excellent Christmas gift for new parents this holiday season. It can be customized with the baby's name and birth information to create a wonderful keepsake that is certain to be cherished for years to come.
$26.95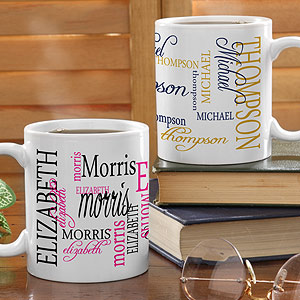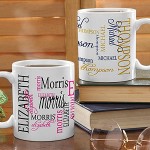 11 or 15 oz. Signature Style Personalized Coffee Mug
The perfect personalized Christmas gifts for Mom and Dad, these coffee mugs are sure to warm their hearts this Christmas. Personalize with the names of Mom and Dad in your choice of colors.
$9.95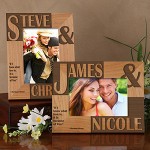 Because of You Personalized Frame
Personalize this unique wooden frame with up to two names and the verse of your choice to create a one of a kind gift Mom and Dad will treasure for an eternity.
$18.95
Do you think personalized Christmas gifts for Mom and Dad have more meaning than other gifts?
Creative Commons Attribution: Permission is granted to repost this article in its entirety with credit to ChristmasGifts.com and a clickable link back to this page.